Nivea Coloron Crayon Pop Red Review :)
Hi All 🙂
I Spotted Nivea Coloron Crayons last Month, but as I was In between something, I just postponed buying one of the three cuties to the February.
Yes, the girl can control buying now, and don't buy every other new launches anymore.
Anyhow, here is the review of the Nivea Coloron Crayon Pop Red.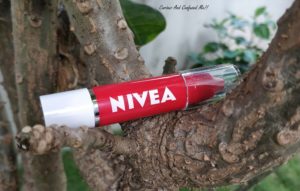 Price: INR 249/- for 3 gm.
Nivea Coloron Crayon Pop Red is indeed a pop of red on the face. The shade is orangey red color, leans towards coral. The pigmentation is really good, even my pigmented lips get good dose of shade in 2-3 swipes. As for the texture its neither balmy nor glossy like typical lipbalm. Rather its, creamy, buttery and has semi shine. Gives a pouty look to lips 😛 This will pass on as a sheer lipstick for those lippy sheer lipstick lovers. Even I am quite enjoying it these days.
The crayons keeps the lips moisturized and hydrated for long. This has managed to heal any slight chapped, cracks of my lips. Since I live in humid place and we get just whiff of winters, I don not know how it will perform in the harsh winters. Still the Performance Is a good One.
This stays long, like creamy lipstick about 3-4 hours, just that once you eat or drink it transfers. The usual of any lipbalm. However, since this one is bright and has good pigmentation, it doesn't completely go off the lips when you drink. It has a slightly fruity scent. 
As for the The packaging this, cutie patootie Lip crayon came in outer packaging with all the details written on the pack. The body of the crayon is color coded with the shade so if you have two of these its easy to spot. The Crayon is like any other lip crayons with twist up mechanism which comes with clear cap.
Overall love it. I have a feeling I will buy this again, as I loved that light, not too glossy, not at all waxy texture. Which gives a good dash of color to lips like creamy lipstick. This range has three shades and they are good, but the rest two shade they will suite more for fair to medium complexion however "Pop Red" is going to suite everybody.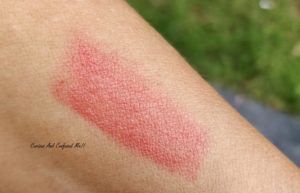 Do give this a try. Its cute and after all it's a lipbalm. We all need it and we all will use it.
Live life to the Fullest
XOXO
SB
---
---