Nivea Milk Delights Face Wash Fine Gramflour For Oily Skin
Hi All 🙂
If you have read my review on Dove facewash , you will know how much I love that, so Much so that I have backups for it.
However, there comes the However, looking at the Drop shaped cute bottles aligned next to each other made me buy Nivea Milk Delights Face Wash Fine Gramflour For Oily Skin.
Nivea has launched 4 new faceswashes in "Milk Delights" range for different skintones.
Precious Saffron : For normal skin
Moisturizing Honey : For dy skin
Rose Water : For sensitive skin
Fine Gramflour : For oily Skin.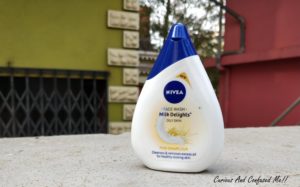 Price: INR 85 for 50 ml
What Nivea says: With the goodness of Milk proteins and Fine Gramflour, specifically for your Oily skin-type, it gives you a healthy-looking skin
Now lets move onto the review.
The one I have is Fine Gramflour For Oily Skin. The facewash has a flowy creamy consistency, which is white in color and Has Yellow beads of Gramflour or Besan. The The facewash is very gentle on skin. Even the beads starts dissolving as soon we rub the product on the face. Again in gentle way. Since the facewash is soap free, it doesn't lather much. However it spreads easily on the face, leaving fresh, clean and a well balanced skin behind. Perfect product for oily skin. It has a soothing scent as well, I would say typical Nivea fresh non bothering scent. As for the bottle, it is of drop shape with all the details written on the back of it and comes with the flip cap.
I Loved it and I think I will try the normal version of this range.
Nivea has well thought of the face wash range and skin type and I cannot find a single con in this product.
Must try. Pick one which suits your skin type 🙂
Live Life to the FUllest
XOXO
SB
---
---