Them cute water Bottles
Hi All:)
Water bottles quenches thirst.
Can you believe this was one of my lines in one of the competition as a kid, when I was asked to talk about the water bottle.
Though I am still finding it hard to describe the water bottle still I can do better, attest better than way before when I was a kid.
Water bottle have been integral part of our life, As a kid as an adult. I usually carry a water bottle with me when I am working or working out or anywhere in general. Even when I have to errands to run, I have tons of work to do I usually keep a bottle with me. The busier the day, the more forgetful we are to drink water. So having a water bottle handy and in reach always makes you, reach the water drinking target for the day. In those times timed water bottle from KEEPTO comes in pretty handy.

Now these are the type of bottles are the that not just look pretty cute when you carry it, but also motivates you to reach your water target for the day. How you ask me? Because they have motivational quote written on them with time on them. Let me talk more about these now.
First let me talk about the built of these bottles. The water bottles are made with the very good quality reusable Tritan plastic. Which are not only eco-friendly but food grade as well. Since these are made with Tritan plastic the water bottles can be used without the fear of shattering. And the same material will be responsible for making them 100% BPA & odor-free. Since they are made with good material there is no chemical taste or smell while you hydrate yourself. Also Tritan plastic makes these bottles last longer, extending there lifetime thus reducing the waste. While making sure the product is of high quality, they have also thought about the re-usability of the product. And made sure people enjoy the product without it being harmful for the environment.
The design is very sports friendly I would say. These are suitable for outdoors sports like gym, running, hiking, cycling etc etc. As much as I love to keep the bottle handy, I also want them to be leak proof so that I wont have to worry about spillage of water in the bag or wherever I have kept the bottle.These water bottles have a Seal on thier cap, which is dust free as well also ensures that they are 100% leakproof. They come with the flip-top opening mechanism so we can drink water without any hassle and also with or without the straw. And if you want to add ice or add fruits or want to have a detox water to get you through the day, all you have to do is add ice cubes and fruits or lemon or other detox elements through the wide-mouth opening . All I can say is the bottle is made with practical approach, keeping in mind of how each individual will be using it in different circumstances.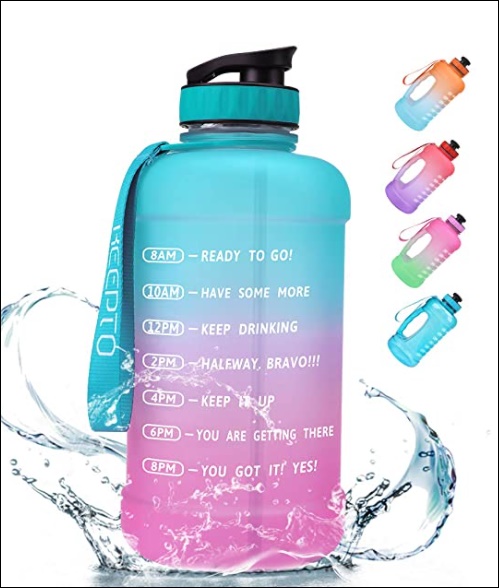 The water bottles comes in 2 capacities : 64OZ & 128OZ amd comes in different Ombre color combinations. When it comes to motivational quotes there are many, depending on your requirement. Whether you want you to reach the water intake goal or water intake for working out or you just to be inspired to drink the water throughout the day ETC ETC. The quotes do help you and remind you to reach your water intake goal as well as to track your water intake in case of pregnancy/detox/muscle gain.
They do they have a good customer support and will be replaced in 48 hour within the 1st year depending on the fault caused, by the reason. The policies will gives more ideas on that. Hand wash is recommended to clean the bottles, which is very hygienic option as well if you ask me.
These water bottles by Keepto are not only a beautiful gift to yourself but also a thoughtful and cute gift option for others. Keeping in mind the Practically, functionality, Price point and usage these are a Great option to chug your water from. Do check them out.
Live Life to The Fullest
XOXO
SB
*Sponsored Post
---
---