Vedic Line Kamayini Aromatic Body Scrub: Review
Hello All 🙂
Please forgive me… I have been not that active on commenting part or on the posting part.
Personal work is sucking the energy out of me plus I am just not feeling it.
So, I took out some yummy soothing scent bath products out to give me some me time as well as some energy.
So here I am reviewing Vedic Line Kamayini Aromatic Body Scrub which I am finding very relaxing these days.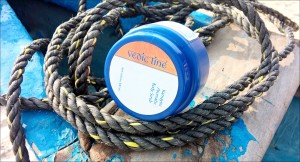 Price: 210INR ( $3)  for 100ml.
Ingredients : Purified Water, Glycerine, Wheat Germ Oil, Apricot Oil, Aloe Vera Gel, Malic Acid, Orange Oil, Sandal & Turmeric Extract.
My experience with this scrub:
The body scrub comes in a biggg blue plastic tub with screw cap. Unhygienic hell yeah !! I usually scoop the product out before the bath and the texture it has allows that. The scrub has a creamy base which is thick with not too coarse granules. The creamy base makes me skip lotions potions for my extreme dry feet. The scent it has is very pleasing , its mix of Sandalwood, orange and little bit of turmeric too. It is one of those products which can take the whole "simple bath time" to the "luxury spa" kind of feel. Post bath with the effective exfoliation, I feel even the very dry skin beauties will be able to skip the moisturizer. Works the best when used on wet skin.
The scrub is gentle enough to be used every day. You need will need a little more scrub and a little more scrubbing if you need some more exfoliation. The instructions say Use toner or cleansing milk while scrubbing. I have absolutely no idea about that. Though thick it spreads easily on wet skin. By the way cleansing milk for body? Is that a new thing? * Bursts into deep thinking mode* .
Cons: The availability. I bought it from Nykaa, and it's still in stock. I keep bumping into Shayoni of Sweet and bitter blog's s review of this ( Her review here )  every time I tried searching information on it..lol . Not much informationabout this , very weird.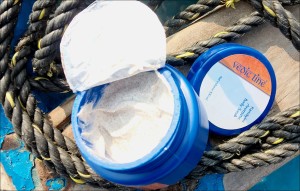 I might not repurchase this because there are many scrubs to catch on to.
I do recommend this as this a wonderful vegan,no silicone, no paraben and no chemicals scrub. Which does all work of a scrub, while making you want to eat it. 
And fresh sandalwood scent ,very soothing to senses and makes my little bath time a spa time. Do try it if you are able to find this. 
Have you tried this? Have you tried any Vedic Line product?
Live Life To the Fullest
XOXO
SB
---
---