Imli Street Jasmine Dry and Damaged Hair Conditioner : Review
Hi All 🙂
A little while ago I went all natural, paraben free, in hair care, though at first I wasn't able to notice any difference and felt like I wasted bucks, 1-1.5 month later I could see the result. Imli Street Jasmine Dry and Damaged Hair Conditioner is one of the products I picked up during let's go natural in hair care.
Between if you are trying to go all natural for hair care !! Do it and be patient!! it does work.
So lets move onto the review of it now.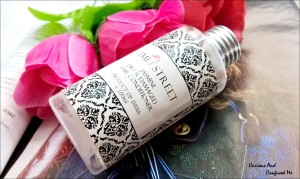 Price: 250 INR for 100 ml( I got it for 190INR)
What they say:  Infused with the active ingredients of Brahmi, Bhringraj, wheat protein, Amla, Arnica, Methi, this conditioner coats and protects the hair shaft prevents breakage, dandruff & premature greying. Arnica aids in restoring the natural Ph balance of the hair. Bhringraj contains natural chemicals known for repairing damaged hair. The active ingredient in wheat protein helps to strengthen the hair shaft.
Free From : Parabens, Sulphates, Synthetic Colours & Fragrances.
Ingredients: Aqua, Glycerine,cetyl alcohol, cetrimonium chloride, hydrovance, cetostearylalcohol, Extracts of Brahmi, Bhringraj, wheat protein, Amla, Arnica, Absolute Jasmine Oil, Guar gum, polyquaternium 7, polyquaternium 10, Panthenol,Vit E, Silk protein, Methi oil, Citric acid, Disodium EDTA, Methylchloroisothiazolinone.
My experience with Imli Street Jasmine Dry and Damaged Hair Conditioner:
Packaging,consistency and scent: Imli Street Jasmine Dry and Damaged Hair Conditioner has a lovely soothing Jasmine scent and it's cream in color. The consistency is thick. The packaging is really pretty. Cylindrical bottle, with designs and has screw cap. But due to the consistency being thick, getting the product out of that bottle felt like war at times, specially when the product neared it's end.
Performance: The conditioner spreads easily and it needs to be left for good 3-5 mins for a good result. When I applied and washed it off in a minute, it did condition the hair but the effect was lost after half a day, after my hair started flying in all directions. So it is better to leave it for 3-5 mins . The conditioner got washed off easily and left behind a lingering jasmine scent behind. We need little more conditioner than usual.
Whether it is for Dry Damaged hair? Do I recommend? Will I repurchase?
It's good for normal hair. It doesn't weigh down hair. It was good for the dry hair I have, it conditioned them enough for 2 days and tamed frizz to an extent. For a very dry hair or Damaged hair, conditioning will be okay but I don't think it will do any miracle.
I havenot repurchased it. Normal- Dry hair people can try this, it's not bad.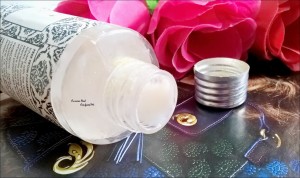 I came across a review that said the shampoo has sulfates in them, but the conditioner I dont know I tried researching. According to me there isn't. But then I am no genius either. So please check the ingredients before purchasing.
Because Chemistry…..
Which Conditioner are you using currently? More importantly Do you like chemistry?
Live Life To The Fullest
XOXO
SB
---
---