Just Herbs Sun'nil Jojoba-Grapeseed Moisturizing Sun Protection Lotion review
I went from
"I have been fooled"
to "I am a fool "
in no time.
Err… You will know in a while what am I talking about!!
Rants first, Review later or you can skip the rant:
Just Herbs No sun Jojoba-wheatgerm Moisturizing Sun Protection Gel has been my favorite ever since I used it due to its fluffy mousy texture and preventing tan on my oily skin. It acts as a moisturizer cum sunscreen and even as a base for foundations. I have finished 2 bottles of this and I wanted one this summer. Then I saw the sale notice. With full ( read over) excitement I went ahead and ordered one without reading description much.
From the moment I ordered it to shipping to the moment I opened the bottle to until I applied it on my face I was clueless that it was not the one I wanted infact it is Just Herbs Sun'nil Jojoba-Grapeseed Moisturizing Sun Protection Lotion which is meant for normal to Dry skin. So in no time I went from " I have been fooled" to " I am a fool" . I had already opened up the bottle by the time I realized, so I decided to use it for legs/arms. But it came in very handy during my vacation and now it's on way to finish line.
Review of the Just Herbs Sun'nil Jojoba-Grapeseed Moisturizing Sun Protection Lotion :
The ingredients the description here:  Click here 
Price: 395INR for 100 ml
The bottle: Lightweight and comes with the pump, just the required amount comes out.
The texture and scent: Very liquidy, creamy and cream in colour which spreads with ease. Scent wise it's Yummy and pleasing.
Performance: For my oily skin the texture is very hydrating infact it broke me out, also felt little sticky. But on a dry skin it works like charm, the lotion sinks in right away and moisturizes well. It hydrates for long long hour's up to 7+ hours. There is no mention of the SPF level or UVA/UVB protection on the bottle, but it has effectively protected skin against sun and has prevented tanning of my entire family. Mum has used it on the face as well.
Do I Recommend it: Yes, just pick up the one which is meant for your skin type. Only normal skin people have a choice 😛
Will I repurchase: Yes, of course. But next time with eyes open and less excitement.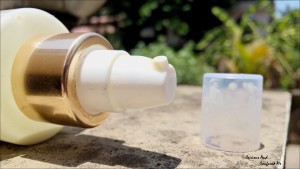 This lotion aims at reversing the signs of sun-driven skin aging and it saves you from layering up the products. So I highly recommend this. It might look like I am selling Just Herbs products, but infact I am just impressed with the products. They do good from within. If you have your doubts you can try their Just Herbs 6 step organic skincare to see which products works the best for you.
Have you tried this? Do you get over excited looking at the sales online?
Live Life To The Fullest
XOXO
SB
---
---