Top beauty courses in India
Hi All 🙂
In this competitive world, where in every sector there is stiff competition, looks or beauty are also not lagging behind, because of which people are ready to spend huge amount on their looks or their beauty. Bollywood celebrities or TV personalities are big trend setters these days and everyone not just people from elite class, but also from common middle class background are giving their best possible share of money to the beauticians to stay in trend.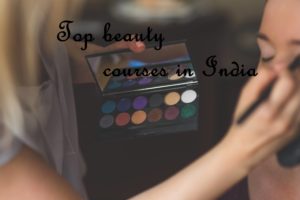 A beautician is someone who is responsible to look after skin, hair, make-up, dressing etc of other individual and he/she gets paid for it.
This scenario of today has given a lucrative career opportunity for those who want to get into this beauty world as working professionals. As a beauty professional, you can work at a beauty salon, take on a beauty franchise with a bigger brand or start your own beauty salon if you want to work from home.
For all the aspiring beauticians, here are the top beauty course categories in India in which you can complete a specialization which will give you a lot of opportunities in future-
Skincare courses – Skincare and aesthetics professionals are in high demand for people who have problem skin, acne or other skin issues.
Hairstyling courses – Indian women embrace their hair with utmost care, making this category of beauty course an evergreen career option for beauticians.
Cosmetology courses – This sets the foundation for becoming a professional makeup artist
Nail beauty and nail art courses – In high demand during holidays and weddings when people have to look, but with expansion of social media where everyone wants to show their stylish nails to the world, nail artists are increasing in demand throughout the year.
Spa courses – This course teaches massage and other physiotherapy techniques which are in high demand. A research stated that in upcoming one decade or even less demand for physiotherapists will rise by 50% of today's demand, so this sector makes a very goodjob opportunity.
Top Institutes offering Beauty courses
To get yourself survive in the running of stiff competition, it is important to have your trainings or certifications from top-notch academies of the country. Here are the best institutes for beauty courses in India where you can join world-class beauty training courses that will give you a better chance of success in the massive beauty industry-
1. VLCC Institute: This is one of the best beauty schools in India for hair stylists and make-up artists.
The courses offered here include:
Hair Dressing and Hair Styling Techniques
 Makeup
 Nails
Nutrition
Spa Therapies
2. Butic Institute of Beauty Therapy and Hair Dressing Butic Institute of Asthetic, Mumbai: One of the
top beauty schools of Mumbai which offers the following courses-
Advance Hair Dressing
Basic Hair Dressing
Post Graduate Diploma in Beauty,
Body Therapy
Hair Dressing
3. Pearl Academy: The courses offered in this academy are considered of the level of what is taught
in international beauty schools of US and Europe. Pearl is also one of the finest designing colleges
of India. Some of the courses offered include:
Hair Styling
Beauty make-up
Massage
4. Butic College of Beauty or B. C. B, Pune: The institution offers undergraduate and post graduate
courses with various specializations. Some of the courses offered in the college are mentioned
below-
Basic Hair Dressing
Advance Hair Dressing
Post Graduate Diploma in Beauty, Body Therapy & Hair Dressing
5. Shahnaz Husain Beauty Academy: Shahnaz Husain is the most popular and pioneer of beauty
training in India. Their diploma courses involve theoretical as well as practical learning of the
skills. The institution provides very high quality and high standard skills to its students competing
at the international market. The Diploma Course also covers client handling. A minimum school
leaving certificate is enough to start training in beauty.
6. L. T. A. School of Beauty or L. T. A. S. B, Mumbai: Located in a city where this sector has ample of
opportunities, the college offers various courses particularly the hairstyling courses, such as-
Basic Hair Professional
Hair Level I Complete Hair Professional
Hair Level II Hair Cut Professional
Hair Chemical professional
Hair Level III Hair Dressing Program
7. Lakme Academy: Lakme runs India's leading beauty treatment and fashion- lakme Salon. Lakme
Acedmy provides its students world class training along with immediate job offers at their salon
after completion of the course. The academy offers courses which are mentioned below-
Cosmetology (Advanced)
Skin Care (Basic & Advanced)
Hair Care (Basic, Advanced & Short-Term courses)
Make-Up (Basic, Advanced & Short-Term courses)
Personal Grooming
8. Nalini Hair Academy or N. H. A, Mumbai: The courses offered in the institute are mentioned
below-
Basic Program in Hair Dressing
Hair Refresher Course
Personal Grooming with Hair Styling and Makeup
Professional Make – Up
Hair Styling
9. Fat Mu Pro Make-Up School: This beauty institute has been associated with Bollywood celebrities
like Danny Boyle and Zoya Akhtar. It offers both short and long beauty courses including-
8 Week Pro Makeup Course
3 Week Fashion & Beauty Course
2 Hours Non-Pro Makeup Course
1 Week Intro Makeup Course
Besides all of the aforementioned beauty training institutions, there are other online trainings courses as well which are gaining popularity like other popular course such as distance MBA in Bangalore, Mumbai or in any other metro cities, Online coaching classes anywhere from home etc. Online training courses includes 'Danessa Myrick's Fundamental beauty and contouring technique', 'Live your beauty academy' and many others.
Are you interested in pursuing career in beauty industry?Do share
Live Life To The Fullest
XOXO
SB
*Sponsored Post
---
---