All about the platform boots :)
Hi All 🙂
What do you makes an outfit complete? Accessories? Bags or shoes? In some cases I agree its Accessories but in most cases its the shoes.Imagine you wear an ankle length Pants or skirt and then wear casual flip-flops or wear casual home wear clothes ad pair it with boots. The idea of it puts you off? right?
Shoes just like pairing two pair of clothes matter a lot. For today Lets talk about the boots, which can amp up your look in no time.
Whether you are wearing a mini skirt, long skirt or formal wear white platform boots will do the skirt. You can even wear Dress long or short dress and pair it with the Lacy number to look awesome. I feel that white boots go great with the formal kind of event. Just like the following boots.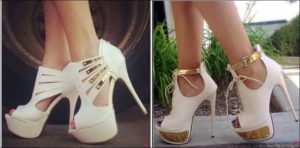 When pairing with the ankle length or shorts or knee length skirt/short I like the idea of pairing it with the black platform boots. Also if you are into goth, street styling , thrifting kind of looks black ones go perfectly fine. There is something about the whole platform and the lace of the black booties, which makes the whole easy going looks more easy going haha. Something like these.
Whether it is black on black, leather pants or long gown, or mini skirt lover , one must own platform boots. FSJshoes is women's shoes brand who ship shoes worldwide, who has an amazing collection of shoes . Their boot collection is impressive too. With the flash sales happening every now and there, with latest designs, customer support even working on Sunday, they bring you the latest fashionable shoes at your doorstep.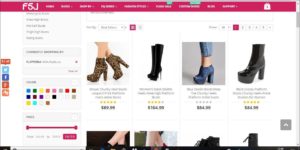 The products in the website are sectioned very well. One can reach the choice of their footwear in no time. Even there is a option to choose a footwear colorwise. One more thing I liked is when you click on shoe type option in the website, it actually shows the picture of shoe type, because lets just be honest, sometimes we just know it is shoe, not the type of the shoes. Or how we want our shoes to look like, not the type of it.
Do check this website out and also don't forget to pair your outfit with the right shoes. They make all the difference.
Do you like Platform boots? DO you Own them? Do share
Live Life To the Fullest
XOXO
SB
*Sponsored post
---
---