L'Oreal Paris Infallible Pro Matte Gloss Rouge Envy : Review, swatch
Hi all,
I have always loved, loved the liquid lipstick because of the pigmentation it has, but great things comes with some glitches. Dry flaky lips, lipstick cracking in middle of the day are the flaws of liquid lipstick no matter which brand or shade I have tried. I find the liquid lipstick which don't set completely,which remains liquidy but gives that pigmentation is a solution for that . L'Oreal Paris Infallible Pro Matte Gloss is one such range. The shade I have is called Rouge Envy.
INR: 799 for 6.3ml
Product Description:
A Pro-Matte Revolution: Introducing Infallible Pro-Matte Gloss, our 1st whipped matte gloss. Intense high pigment shades create lasting matte color. Lush velvety texture feels soft for all day comfort. With the pro-sculpt applicator, shape and add dimension to lips.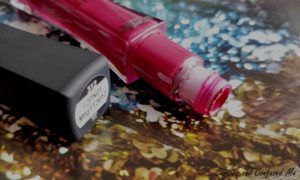 My thoughts on L'Oreal Infallible Rouge Envy Pro-Matte Gloss:
Packaging: The product housed is transparent tube with Matt black cap. Pretty and functional. The applicator is doe shaped with the hole in middle. Picks up the right amount and the curvy applicator is perfect while applying the gloss in the cupid bows and the corners of lips. The applicator reminds me of Lakme Matte mousse
Shade: The shade Rouge Envy is Pinkish Red, leans towards Raspberry shade on my Dusky complexion. It brightens up the face without being attention seeker. It will suit all the skin tones. The shade is pretty similar to Maybelline velvet matte. Which I loved and finished , but got discontinued. The pigmentation is bang on.
Texture: The texture is moussy, creamy and bit thick, which smoothly spreads across the lips.
Performance: Once applied the gloss has some sheen initially. After a while it sets into Velvet finish, but let me tell you it doesn't really set into complete waterproof matte finish like authentic liquid lipstick. Though once set it transfers less but its not completely transfer proof. The gloss stays on about 6-7 hours on me without touching up and also it leaves a stain so that stays on for another 1 hour or so. One can blot it and it will give that stain like effect on lips, that too stays a lot and gives a matte finish. It is super comfortable on lips, doesn't really settle into fine lips, doesn't crack on lips. This can be applied as a blush shade too.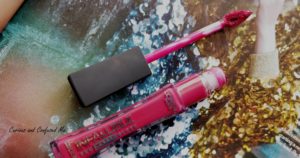 Summing up: L'Oreal Paris Infallible Pro Matte Gloss – 312 Rouge Envy is a beautiful Pinky red shade which suits every skintone out there. With its creamy, velvet finish, bang out pigmentation it sits pretty on lips for about 6 hours. Don't expect it to set completely into matte finish and transfer proof as it in not that kind. If you love the shade and the these kinda formula. You should try one. Recommend.
Live life to the Fullest
XOXO
SB
---
---