Bigbasket online store review !
Hi All 🙂
On the scale of 1-10 how lazy do you feel during rainy season? Or when you extremly busy with work? Or during winters when you feel like snuggling in bed? Or when it's hot to go out in the sun during the summers.Wait did I just cover all the seasons? umm I did .
My point is we get lazy we get busy but the daily life doesn't stop. And needs for the daily doesn't stop either. Be it grocery, vegetables, daily use items, toothpaste or bathing soap , oh don't forget soap. Haha. Though we have vehicles , supermarket built near us there are times you want everything delivered to your doorstep. Do you want? Or you don't want? You wantsss… then I have a solution and keep on reading the post.
Solution: BIGBASKET ONLINE STORE.
Be it ladies personal care products or vegetables or exotic fruits or toilet cleaner or just a cake, you have it all under one roof.. or should I say one click away under one website.
Instead of writing big lines and reviews let me just sum up the good things or my experience here or what I feel about the website:
1. Availability of brands, products: Do you catch yourself getting confused in front of the big aisle of products and only not to find them there or a big bottle of product? well this wont happen here. You can take your own time and order the self care products from here.
2. It makes the whole grocery shopping easy: Again do you catch yourself getting confused between the yellow thing the round thing and what not names. Well grocery shop makes our life easy by listing all the products, there you can find your yellowy things, back round thing the seeds the nuts.
3. No time to shop : You may be the pro at grocery shopping but in Metros cities, due to work timings hectic work schedule, one gets exhausted and reaching home is a task in its self. You can place your orders the previous day and very next day you can get your stuffs at doorstep.
4. Sorted list : Just like any other eCommerce shopping site this too has filter through which you can reach and add and buy the products faster. You don't have to run from aisle to aisle or get lost ( Kidding not kidding :P)
5. Same pricing as local stores: Just because it comes from a website the prices are not sky rocketed or they are not even more!! They are priced exactly like the local stores. Of course these are fresh too.
Only a thing I dint like but they are already improving on is that the service is not available in all the cities currently. So they are planning to expand to more cities. For now they are serving in Mysore, Vijayawada, Coimbatore, Madurai including all metro cities.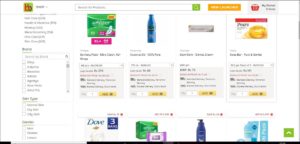 Apart from all these I liked that you get the basked goodies the same day. You can get good deals on self care products, toiletries, sanitary products. You will have access to exotic fruits which sometimes we fail to find it in local stores. The payment methods include Sodexo coupons apart from the usual cash on delivery and online payments option. Also they offer 4 slots first being at 7 A. M and the last being at 9.PM . Great f you are one of those who work in mid shifts.
Are you are Big basketier? If you are one great if you aren't you have to be one!! Do share
Live Life to The Fullest
XOXO
SB
*Sponsored Post
---
---