Lakme 9 to 5 Naturale Matte Sticks Lipstick Crimson Town: Review, swatch
Hi All 🙂
A new launch, awesome packaging and a decent pricing always calls my name. So instead of wasting my time in intro, lets head onto the review of the Lakme 9 to 5 Naturale Matte Sticks Lipstick in the shade Crimson Town.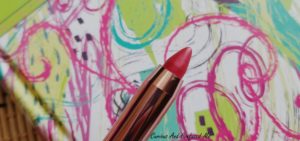 Price: 550 INR for 2.2 gms
What Lakme says: These luscious matte sticks combine the precision of a lip liner with the intensity of a lipstick. Its intense color pigments glide on smoothly for a long-lasting matte finish. Lakmé Naturale presents the first-of-its-kind matte sticks infused with aloe vera and honey extracts, that help protect your skin from city pollution.
My experience with Lakme 9 to 5 Naturale Matte Sticks Lipstick:
Packaging: Well the packaging gets brownie point here. It's a lip crayon in the twistable format, which comes with the cap. The shade name is written at the bottom. The body is made of kind of Plastic but gradient effect from Green to Rose gold, gives that rich luxe look. Just like the Lakme Argan oil lip color
Shade: The One I have is called Crimson Town and the Matte sticks come in 15 shades. This Shade is Pinky Red with hint of Coral, with Metallic finish. Who knew, that this will turn into a metallic one. This shade will suit fair to Dusky well. But on deeper skin tone, it might end up looking bit gaudy due to it's metallic finish.
Finish/Pigmentation: Though Metallic the finish is Matte with the metallic sheen on it. The stick is very well pigmented, with one swipe 100% shade gets deposited.
Texture: The texture is smooth, I wouldnot call it creamy but smooth enough to glide on lips easily. The Matte Stick is not at all Waxy or heavy. Also it's light on the lips.
Staying power/Performance: The Matte Sticks initially have point tip and slimmer body than our regular chubby crayons. As called by them it's rather a color stick. Once the lips are colored, this Lakme 9 to 5 Naturale Matte Stick easily stays 6+ hours. It doesnot budge with snacks and water, just an oily meal will do the difference. Still it leaves a lovely pink tint behind. After about 4 hours the sheen and metallic nature becomes bit prominent. Also, I dint find this moisturizing, it's rather bit drying ( Not the liquid lipstick dryness). So you need a good lipbalm underneath. Overall good performance.
Lakme 9 to 5 Naturale Matte Stick in Crimson is a lovely matte stick with metallic finish, which stays 5+ hours and comes in cute packaging. Though 15 shades, its just bunch of pinks and reds. Bit drying but Lipbalm can take care of it. It becomes bit expensive as for 550 bucks you get only 2.2gms of product. I Wouldn't call this a must try. But if you cant resist a cute packaging, and want to try Metallic matte finish do try this. I Would call the product Not bad but not a must buy.
Have you tried this? Are you liking the whole Mettalic lipstick trend
Live Live to The Fullest
XOXO
SB
---
---