Blue heaven artisto matte lip crayon: Review, swatches
Hi All 🙂
Blue heaven has and is been releasing many new launches these days.
It's the authhetnic indian old shcool brand, which buckled up, and looks like it's been working hard to be in the market.
I have picked up 2 shades from Blue heaven artisto matte lip crayon
Lets head onto the review.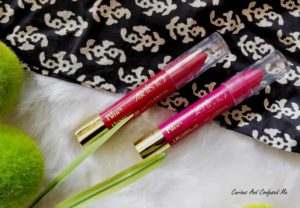 Price: 150INR
My exprience with artisto matte lip crayon review:
Packaging: The Blue heaven artisto matte lip crayons are those typical chubby sticks. Color coordinated body, has twistable type mechanism and has transparent cap. The cap is okay not too tight not too loose. Since there is no sharpening no product wastage.
Shades : Blue heaven artisto matte lip crayon comes in 12 different shades. The shades I have is very true to its name. Cherry red (01) : Cherry red shade and Fushica Pink (06) : Fuschia Pink but minus the brightness. Both shade will suit all the skin tones.
Texture/Pigmentation: The lip crayons have smooth and creamy texture. Though called matte they dont have that hardness in them. Pigmentation is very good, with one swipe one can get the full coverage to the lips.
Performance: The finish of these are not matte. More like creamy matte with sheen. Also it transfers. It transfers a lot. I dont really mind that but a sip from cup and after gulping the entire coffee/tea 60%-70% would just vanish. And I dont even munch anyhting in between, its just water all the time. And then you have to touch up. Lunch will wipe the entire lipstick leaving behind a light very light tint behind. Point is it transfers to whatever it touches. So if you go onto the non eating-non sipping mode these will stay about 3+ hours on lips. I dint find these moisturizing either. Overall okay performance.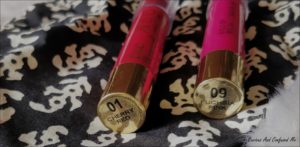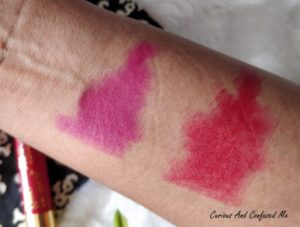 Blue heaven artisto matte lip crayon are affordable chubby crayons with good pigmentation but its transferring nature puts me off. You can spend some more bucks and get a good one. Affordable yet Meh. Not recommend.
Have you tried this? Which Chubby stick is your fav?
Live Life To The Fullest
XOXO
SB
---
---