The Face Shop Herb Day 365 Cleansing Foam Acerola : Review, swatch
Hi All 🙂
Finally Korean brand "The Face Shop." products are India. The Korean company which makes cute tubes of hand creams and thank god all are available in their original prices.
Some prefer gel, some prefer foam in cleanser. I don't really have any preference apart from that, they should be gentle enough for everyday use and cleanse thoroughly. I remember reading about some other variant but when it came to picking up,  I picked up The Face Shop Herb Day 365 Cleansing Foam Acerola
Coz the Cherry was printed on the tube 😀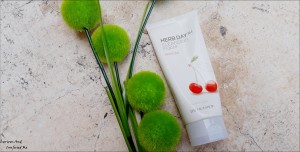 Price: 300INR for 175 ml
Product Description:
Enriched with pure Acerola and nine kinds of herb extracts, this lovely foam provides moisture and nutrition that leaves skin soft, clear elastic and youthful. It brightnes up the skin. Perfect for all skin types and This product is dermatologicaly tested.
Ingredients:
My Experience with The Face Shop Herb Day 365 Acerola Cleansing Foam:
Packaging: The Foam Cleanser comes in a huge plastic tube with flip type cap which shuts effectively. The tube though pretty, practical is a little bulky to travel with. The details are at the back of the tube.
How the Cleasner is like: The cleanser is pale pink in color, and has pearly sheen to it. Something like our Vicco turmeric cream would look 😛 It has a creamy thick consistency which spreads on face easily.It has a Cherry, Apple scent to it. Something like Appy drink has and it is not strong and not bothersome.
Performance: I usually take pea sized amount and massage this on the wet face. It lathers well and gently, deep cleanses all the dirt, oil from the face. It leaves behind soft and bright skin behind. The brightness, it brings to face is not artificial, rather a healthy glow, just what the product claims. It doesn't suck oil out of face leaving it dry and making it produce more oil. It does remove the BB cream and light makeup. It did not break me out, no irritation to the skin.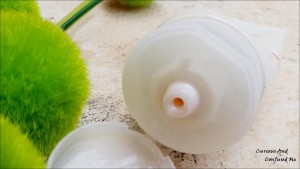 Pros:
Foam cleanser, Affordable, Gently cleanse the skin,Pleasant scent, Doesn't dry out the skin, Leaves behind soft bright face.
Cons
Tube is buly, None.
Last words:
Yup I recommend this and I might try another variant in this. The Face Shop Herb Day 365 Cleansing Foam Acerola is affordable, gentle on the skin, Cleanses the skin very well and leaves behind a healthy skin. Do try this out.
Have you tried any The Face shop products? you fancy foaming clenaser?
Live Life To The Fullest
XOXO
SB
---
---