Lakme enrich lip crayon: Review, swatches, LOTD
Hi All 🙂
Me: I am going to save money and get some high-end brand lipsticks.
* News Flash*
Lakme launches enrich lip crayon in 10 shades.
Me at Lakme counters: Lakme enrich crayon? Launched yet?
Story of my life. Pretty sure it's every lipstick addict's story. So here is the review of the Lakme enrich lip crayon for you girls now 🙂
Price: 185INR for 2.2gms
Product description: Get smooth and matte finish lips with this lip colour crayon by Lakmé that is infused with mineral powders. Lakme enrich lip crayon has a soft texture and is available in 10 gorgeous shades that suit all Indian skin tones. It also has a rich blend of olive and jojoba oil that simultaneously conditions your lips. For your convenience, the all new Lakmé Enrich Lip Crayon comes with a sharpener.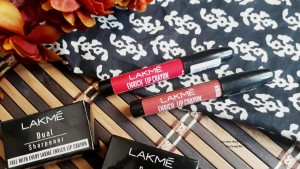 My experience with Lakme enrich lip crayon:
Packaging: It's big girls crayons 😛 It's a crayon like chubby pencil with the colour coded body and a black plastic cap. And can we forget free sharpener with it? We cannot. Some brands sharpener itself costs 200 bucks. Here we are getting a chubby pencil too.
Texture/Pigmentation: The crayon has smooth but bit waxy texture. It is crayon like only, but can you complain at this price. Since it is bit waxy, you will feel the product on lips a bit, but not bothersome. Pigmentation is semi sheer but buildable, one would need 2-3 swipes.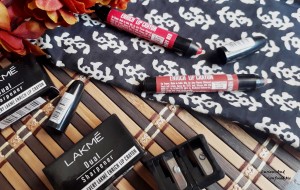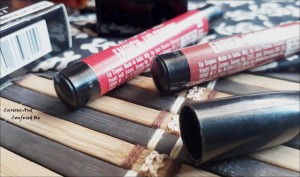 Performance: The lip crayons I have give semi matte finish. Throughout the wear time I don't feel any discomfort on the lips.
Shade and their weartime:
Lakme enrich lip crayon 01 Berry Red: It's A rosy pink Red shade. The one that gives natural look with 1-2 swipe and looks prominent with 3 swipes. It will suit every skintone. This stays for about 4-5 hours on me and transfers less. I am pretty sure I am going to repurchase this, because I am in LOVE with this shade. This shade leaves a light tint behind.
Lakme enrich lip crayon 09 Cinnamon brown: It's a neutral brown on me. This can go as MLBB shade for many. This stays for about 3-4 hours on me and transfers more than berry red. This kind of neutralizes my lips and then I mix it with my other brown shade to get that Kim kardashian kind of lips. If you know me then you might know that I am not really a brown shade person but for that once in a while, I am liking this shade. This will suit fair to dusky shade. However on dusky tone, it might wash out the face when it gets tanned, you can mix it with some other shade.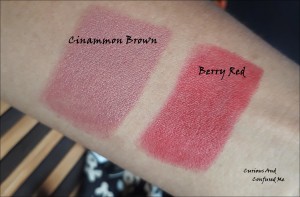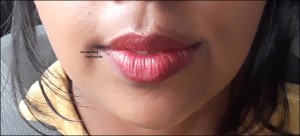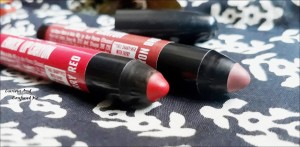 Pros:
Affordable, Crayon like chubby sticks, Free sharpener, 10 Great wearable shades, Lakme so I am guessing availability wont be an issue, Easy to touch up, stays for 3-5 hours.
Cons:
Product wastage might be an issue for some
Last words:
I am wowed by this launch as it is wow. I have a feeling that Berry shade is the only shade I am going to carry for my next travels, as I find it perfect not too light no too bright. Touching up is also easy. I will buy one more shade in this which is a medium magenta. Hope Lakme launches more shades in this in future, like maroon, wine burnt orange 😀 Greedy much? Cant help it.
Lakme enrich lip crayon is the most affordable lip crayon in the scene right now. With the crayon like image and feel, one must not miss it. Must try range. Do check out Berry Red for sure. Recommend. 
Do you have this? Do you like crayon lipsticks?
Live LiFe To The Fullest
XOXO
SB
---