Juicy Chemistry Lemon and Spearmint Lip Scrub : Review, swatch
Hi Girlies 🙂
My first lip scrub was from Lush. I saved my pocket money and I bought it, and soon I realized that it is nothing but sugar and some other stuff.
From that time I have never really bought an authentic lip scrub, just sugar+ honey and get the work done.
However, mixing those 2 also became a pain soon due to my love for liquid lipsticks and I wanted one authentic lipscub, which I can use at any time without running to kitchen, just before I get ready for the day.
So I picked up Juicy Chemistry Lemon and Spearmint Lip Scrub.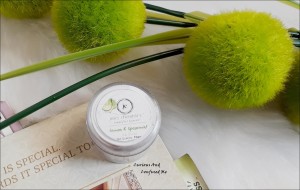 Price: 200INR for 10g
About Juicy Chemistry : Pritesh & Megha Asher co-founded Juicy chemistry in 2014, with the goal to formulate skin care products in natural form. All thier products are 100% natural and chemical-free, free from parabens, preservatives, petroleum products, artificial perfumes, alcohol, etc > No testing on animals and the jars they use are recyclable.
Ingredients: Persea armeniaca (Avocado Oil), Tocopherol (Natural Vitamin-E), Prunus dulcis (Sweet Almond Oil), Beeswax, Butyrospermun parkii (Shea Butter), Organic White Sugar, Citrus limon (Lemon Essential Oil), Mentha piperita (Peppermint Essential Oil)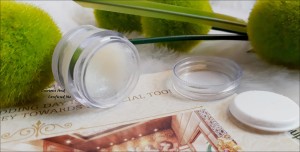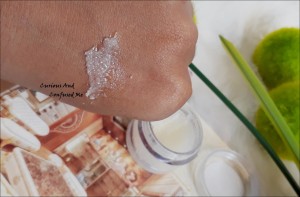 My experience with the Juicy Chemistry Lemon and Spearmint Lip Scrub:
The Lip Scrub comes in transparent plastic tub with a screw lid. The packaging has the details on it. The lip scrub is white in colour and is waxy/sticky to touch. The moment you open the lid you will be slapped with the strong Minty, lemony scent. The sugar granules are in good quantity and you only need small quantity every time you use.
Once I scrub the lips I keep them on lips for about 1 minute and take them off. There is a tingly sensation on lips. Make sure you are using only little at time, otherwise that tingly sensation might end up feeling bit more. The lip scrub is a mix of essential oils, beeswax, shea butter and sugar. So it effectively exfoliates the lips, moisturizes them and makes them soft post use. Post usage I do not need t o use a lip balm.
Funny thing is after using their Juicy Chemistry Lemon & Spearmint lip butter , I am hardly getting any chapped lips or dehydrated lips or a need to scrub the lips. However, scrubbing lips makes the lips soft and brings out their natural pinkness. So scrubbing too becomes important part of lip care. If you are looking for a readymade lip scrub I would say pick this up. It's natural and does its work efficiently. It also has many variants. Must try.
Pros:
Affordable, Natural Ingridents, only little quantity is required each time, Effectively exfoliates and nourishes lips
Cons:
Since it is natural the shelf life will be less, none really
Have you tried anything from this brand? Do you use readymade lipscrub?
Live Life To The Fullest
XOXO
SB
---
---