L'Oreal Paris Rouge Magique Lipstick – 909 Royal Veloute : Review, swatch
Hi All 🙂
So my payment fails while I was shopping online, before I place an order for 3 lipsticks.
Just one browsing and find out that one out of the 3 lipsticks are useless and just when I was about to make a payment. I decide to browse the website a bit more and tada
I see L'Oreal Paris Rouge Magique Lipstick
So blindly picked up a shade and here is the review.
Price: 399INR for 3.9gms
What Loreal says: L'Oreal Paris launches a new generation of matte lipsticks with intense colour pigments and most comfortable wear. Enriched with nourishing oils, pure matte pigments, and hydrating honey, Rouge Magique dresses your lips with the most intense matte colors! It's MAGIQUE, in a stroke.
My experience with L'Oreal Paris Rouge Magique Lipstick :
Packing: The lipstick came sealed in transparent plastic it had all the details on it. Mum threw it so no pictures sorry 😛 The lipstick is pwetty. The barrel where lipstick lies and the cap is in hot fuchsia Pink and matte black bottom. Sturdy and pretty.
Shade : L'Oreal Paris Rouge Magique Lipstick Royal Veloute is a plumish Red with Pink tinge in it. It looks gorgeous and it will suit everybody. Goes well with ethnic, functions, fall time and even with formals when you want to make statement.
Texture/Pigmentation: The lipstick has a beautiful creamy texture and it glides on lips beautifully too. No dryness at all. Pigmentation too is awesome; one swipe is all one need.
Performance: The lipstick has creamy texture but sets into velvety matte finish. It's not that super powdery matte, rather a comfortable matte. It does transfer however it is minimal. With snacks of course the shade fades a little, but even after the lunch about 30-40% shade remains if your meal isn't oily. It leaves a tint behind. Overall the lipstick stays for about 7+ hours ( I am counting the tint too and of course the color fades by the end of the day). It doesnot settle in fine lines, very comfortable on lips and doesnot bleed.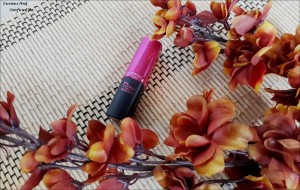 Pros:
Affordable, comfortable on lips, velvety matte finish, Plum red shade, Pretty classy packaging, Insane pigmentation, Stays for a long time, stains lips
Cons:
None for me.
Last words:
L'Oreal Paris Rouge Magique Lipstick Royal Veloute is the shade which I had in mind and I can't believe that I picked it up blindly. I got lucky however I have seen a swatch video of this collection and all the shades are beautiful. At times it feels like a pricier version of Maybelline creamy mattes; however quality is much better in my opinion. L'Oreal Paris Rouge Magique Lipstick is a affordable, pweety lipstick, with good staying power and of good quality.
Recommend. Yes. There are some beuatiful shades and daily wear kind of shades in this range if you are looking for that.
PS: It is affordable, however if you feel it is pricy wait for a month and see this going on sale 😛
Have you spotted this? Did you know L'Oreal launched a Tint caress 3-1 thingy?
Live Life To The Fullest
XOXO
SB
---
---