Iba Halal Care Pure Lips Long Stay Matte Lipstick Berry Punch : Review, swatch, LOTD
Hi All 🙂
I can give you 101 reasons on why I haven't been blogging from a while….
However I had to resume blogging or at least I had to post about this lipstick from Iba.
Iba Halal Care Pure Lips Long Stay Matte Lipstick Shade was launched in 10 shades recently.
And I picked up one shade named Berry Punch M09.
Before we go ahead and I write the whole story, I confess I love this purchase 😀
For people whom this brand is new: Iba is India's first halal certified & vegan cosmetics brandThe concept of halal & vegan cosmetics is rooted in science to ensure products are safe, pure, effective and free of alcohol, animal derived ingredients and harsh chemicals. Iba offers a wide range of personal care products & cosmetics including skin care, hair care, makeup and fragrances
About the lipstick and Ingredients:
Iba introduces India's first halal certified & vegan matte lipsticks. Halal Certified & Vegan, No Pork or Animal Derived Ingredients are used in this lipstick and the formula is Non-Drying, and made with Preservative Free Paraben Free, Alcohol Free. Instead find lip loving ingredients such as CocoaButter, Vitamin E, Olive Oil, Almond Oil and mineral colors in our lipsticks.
My experience with Iba Halal Care Pure Lips Long Stay Matte Lipstick:
Packaging: The Iba lipstick comes in a cardboard box with all the details on it. The lipstick tube has a shiney black body with golden tube. The old school practical packaging which is sturdy and has a cap that shut tightly with the click sound.
Shade: The Berry Punch is Berry Pink shade. It will suit all the skin tones out there, and if you change your lipstick according to the season this is going to be that perfect Fall winter shade. Dusky Deeper skin tone should definitely give this shade a try.
Texture/Pigmentation: The texture is creamy and glides on lips super smoothly. The pigmentation is insane, 100% shades gets deposited on the lips in swipe itself.
Performance: Though texture is creamy on the lips it gives a semi/demi matte finish on the lips. After about 30 minutes it sets into the velvety matte finish which looks great. Though it transfers after applying immediately, it transfers lesser once it sets. Overall it stays on lips for about 8 hours. Shade does fade with little snack and sips in between, however it's uniform. Even after the lunch about 40% shade is left on lips, which again looks great. I usually reapply the lipstick after the lunch but even when I dint it could go on for about 2 more hours. It leaves a light pint tint behind and it is comfortable though out the wear time. It does not settle into the fine lines.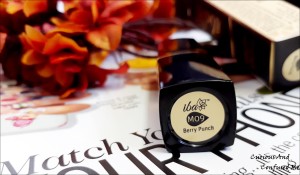 Pros:
Affordable, Sturdy packaging, Great staying power, 7-8 hour staying power, bang on pigmentation, velvety matte finish, formulated without Preservatives,Paraben and Alcohol
Cons:
None
Last words:
Iba Halal Care Pure Lips Long Stay Matte Lipstick has blown me over. It is commendable that at 350INR they are giving a matte lipstick which stays for 6-8 hours, without drying the lips. I regret not getting on more of these and soon I will get one more. Yup I recommend this and you gotta try one.
Do you love Matte lipstick? Do you have any product by Iba?
Live Love to the Fullest
XOXO
SB
---
---