Lakme Absolute Argan Oil Lip Color Smooth Merlot : Review, swatch
Hi cupcakes 🙂
Lakme Absolute Argan Oil Lip Color in Smooth Merlot is the lipstick that broke my lipstick/makeup ban.
Yeah, yeah I was a on a lipstick ban.
Though it dint look like, But I was!! For About 50 days 😀
And the makeup I have bought is minuscule compared what I have bought in the last year
Reason simple, just wanted to enjoy the makeup I already have before jumping to new one.
Anyhow let's move on to the review of Lakme Absolute Argan Oil Lip Color.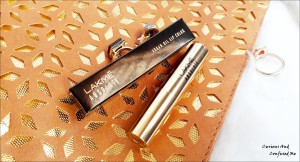 Price: 750INR
Product Description: The power of traditional argan oil, now in your favourite lipstick. Say hello to argan oil infused lip colors, the all new invention by Lakmé. These lipsticks nourish your lips while delivering intense color. The best of both worlds is now a reality with its nourishing power as well as rich pigments. It has a beautiful creamy
texture that gives your lips a smooth and silky finish. Available in 15 vibrant shades that complement all Indian skin tones, Lakmé Absolute Argan Oil Lip Color is where the power of argan oil comes to life!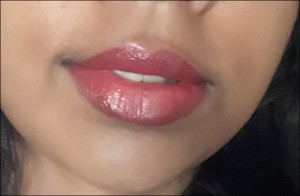 My thoughts on Lakme Absolute Argan Oil Lip Color:
Packaging: The lipstick case is pretty golden one. Looks luxe and neat and it's not a metallic one. The lipstick bullet lies in the barrel, so these are perfect for travelling.
Texture/Pigmentation: The lipstick has a thick creamy texture but extremely light weight at the same time. The pigmentation is okay too, about 1-2 swipes are required.
Shade: Smooth Merlot is Red and brown mix and it's an equal mix. Gorgeous and sophisticated. If you are one of those who want a red lipstick for office but afraid to go full blown bright you must check this out.
Performance: These argan lipsticks are not matte lipsticks, rather a light weight on lips, creamy, giving glossy sheen to lips kind of lipsticks. I actually like these kinds for summers. I feel these go well with that minimum summer makeup. It is more of lipbalm cross lipstick. It nourishes the lips. One will not get uncomfortable during the wear time. These lipstick stays about 3-5 hours on the lips, they do transfer a little and with meal it fades evenly. And it leaves a tint behind. This can survive little snack.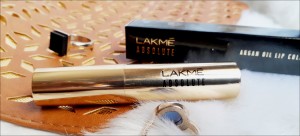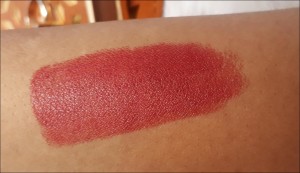 Pros
Pretty shade, Stays about 3-5 hours, Nourishes the lips, Leaves a tint behind, very light on the lips, goodness of argan oil, Cute packaging, 1-2 swipes and enough color gets deposited.
Cons
Pricey for some as the texture is smooth lipstick will get over fast.
Last words:
I am quite enjoying it these days. Since I am all black on black most of the days ( ehehehe ) this goes well. Lakme Absolute Argan Oil Lip Color is gorgeous cased lipstick which is light weight on lips, apt for summers and with the 3-5 hours of staying power. This lipstick nourishes the lips and eliminates the need of lipbalm. I feel the dry lips beauties will love this more, as it feels moisturizing on lips and nourishes the lips. 
But apart from the whole Argan oil thing in it, these lipsticks are not something unique. Even the Faces Glam On Lipstick feels the same way and it has more summery shades, not to mention priced less.
If you like any shade in this and whole light weigh texture fancies you get it. Try getting them on sale 😉
Not a must try but not a bad try.
Have you tried this yet? Any favorites from Lakme brand?
Live Life To The Fullest
XOXO
SB
---
---