Nykaa paintstixs review, swatch
Hi All 🙂
So same old story. I was trying to be on makeup ban, Nykaa launched some candies I mean lipsticks
I liked some, narrowed to 2 and ordered.
Now lemme review them.
There are 12 shades in this Nykaa PaintStix range and I picked up Peaches n Cream and Rock n Roll Pink .
Price: 425INR for
Claims:  Extreme color intensity,Soft matte finish,One stroke application,Long-wearing and Consists Vitamin E and nutrient-infused butter
My experience with Nykaa PaintStix :
Packaging: The cap of the lipstick is color coded with the shade and the body is black color. The outer cap though looks classy, inner part is not the sturdiest one, it wobbles a bit. The packaging is similar to the MAC Liptensity lipsticks, though I dont own one, I lust over them ( I lust over every lipstick). The bullet is flat, thin lips might not like this.
Texture/Pigmenation: The texture wise these lipstick are creamy and light weight on lips. Pigmenation is good enough, one needs about 1-2 swipes.
Performance: The lipstick ends up giving a Sheeny finish and its not soft matte. Though called long wearing and all, these stay for around 3-5 hours. Since these transfer, the more you eat/sip, the more it transfers. Though I don't snack in between, but my constant water sipping habit takes away the lipstick ( Poor colored head of sipper lol ) These do leave a tint behind and are comfortable on the lips. I havenot seen them settling in fine lines.
Shade:
Rock N Roll Pink : Fuchsia pink with strong purple undertones. I love this color when freshly applied, after about hour, it looks just like any other fuchsias out there. I dunno where the purple undertone goes. However, this shade will suit everybody and it will perk up the face in no time.
Peaches N Cream : Peachy shade. Beautiful not over the top, running errands kind of shade. Peaches wash out my face so I stay away from these, this was the risky shade I bought. Though it suits me when worn on bare face, the moment I put concealer on, powder my face and kajal my eyes, the face looks pale. Somebody even asked "Am I
alright. I am looking sick "  -_-. If you are of deeper skintone, dusky skintone  don't go for this. It will suit fair to medium only.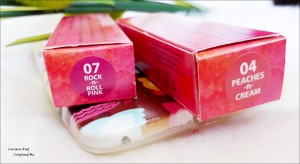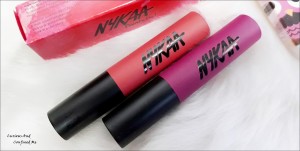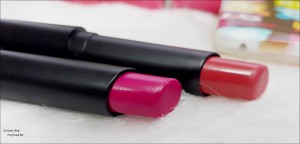 Pros:
Affordable, Creamy formula, stays for 3-4 hours, Comfortable on lips, Funky packaging
Cons
Transfers, smudges, not matte formula, not long staying formula.
Overall I am okay with the shades and the lipsticks. I don't find them anything different than the lipsticks I own. The lipsticks aren't bad but the too tall claims by Nykaa makes us expect a little more. There are some interesting shades, if you like them try it, you wont miss out on anything if you don't try these.
Have you tried these? have you tried any Nykaa lipstick?
Live Life To The Fullest
XOXO
SB
---
---