Why I don't use Orange lipstick as corrector !!
Hi Girly 🙂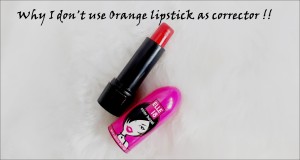 Beauty world is fun and weird at that same time.
They use the aftershave as primer, a sponge as blender and a lipstick as a corrector for dark circles.
When a orange lipstick was used a corrector I rejoiced; I used the unwanted orange lipstick under the eyes; It worked; I danced and felt awesomesause. However, soon I read another article that made me not use the orange lipstick as a corrector anymore.
Basically the lipstick has chemicals and mainly wax which makes the lipstick adhere to lips. Which doesn't go well with sensitive under eye skin area. Corrector have chemicals in them but lipstick does more harm. In short, chuck that idea of using orange lipstick as and get yourself a Orange corrector.
Initially in India, it was a challenge getting a Orange corrector , however now we can acquire easily.
Some of the choices of Orange corrector in India are: L. A girl Orange corrector, Kryolan , Freedom Pro
I'll try doing the post on available correctors in India soon.
Till that you can check out the review of : LA Girl Pro HD Orange corrector: Review
Do you use a Orange lipstick to correct the Under eyes? Blemishes?
Live Life To The Fullest
XOXO
SB
---
---