Juicy Chemistry Lemon & Spearmint lip butter review
Kiss goodbye to dull, flaky chapped lips with the ultra-nourishing lip care products from Juicy Chemistry. Nourishing Shea Butter butter, rich Avocado oil and soothing essential oils gently address the dryness and help seal in the moisture. The lip butter moisturises dry, chapped lips, leave it smooth and also they penetrate deep
into the skin cells to rejuvenate your lips.Fancy a drink? Well go ahead and dab it on your lips! 100% Natural ingredients. Free from animal testing, fragrance oils and harmful chemicals
Additional Information: Juicy Chemistry was co-founded by Pritesh & Megha Asher in 2014, with a goal to provide effective organic skin care products formulated with the purest and the most nutrient rich ingredients. All the products are made from wild-harvested ingredients, steam distilled & cold pressed oils and are free from parabens, preservatives, petroleum products, artificial perfumes, alcohol, etc.
Ingredients – Avacado oil , Natural Vitamin E , Sweet Almond Oil , Beeswax , Shea Butter , Lemon Essential Oil , Peppermint Essential Oil
Price: 150INR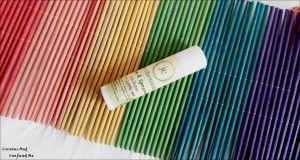 Hi All 🙂
New brand. Lip butter. No Chemicals.100% Natural ingredients is what Juicy Chemistry Lemon and Spearmint lip butter is all about.  And something I was looking for.
Juicy Chemistry Lemon and Spearmint lip butter means business. Comes in a simple twist up type packaging . No fancy label, no fancy lettering just plain opaque white tube. The lipbutter though looks yellowy in the tube but on lips its transparent. Being a lip butter this has a soft texture and feels like butter on lips. After the application it gives a cooling sensation to the lips for about 1-2 minutes. This makes lips a bit plumpy I feel. Neat!!
The usage of liquid lipsticks have left my lips dry, so this was the perfect buy for me. Juicy Chemistry Lemon and Spearmint lip butter repaired my dry chapped lips within a day. It stays on lips for about 4 + hours and since this a butter and has a lot of essential oil present, lips don't feel dry even after the full meal. It does hydrate the lips. Since its butter and has a lot of oils in it, one has to blot the lips if you before applying a matte lipstick.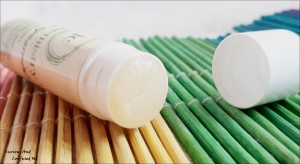 It is perfect for winters. Since there is no SPF it is not suitable if you will be out in the sun, but you can use it in the night to wake up to soft nourished repaired pouty lips.
Juicy Chemistry Lemon & Spearmint lip butter is 100% Natural ingredients, chemical free lipbutter which is affordable and repairs lips in no time. Recommended.
Pros:
Simple packaging, Hydrates and moisturizes lips, Feels like butter on lips, repairs lips, affordable, Makes lips a bit plumpy
Cons:
No SPF
Have you tried this brand yet? Favorite lipbalm at the moment?
Live Life to The Fullest
XOXO
SB
---
---