Choosing kurtas that will flatter your body type!!
Hi All 🙂
Now since the summer's or the humid weather is at the door ( It has already entered my city and making me sit under AC all day ) pheww. Naturally, I have been leaning towards Kurtas/cotton based fabrics . I have already talked about styling kurtas in other post , today let's talk about how to choose kurtas that will flatter your body type. See I am not an expert and I am sharing whatever I know. And the blunders I have observed around 😛
So, shall we start.
Apple Shaped Women:
The one with the heavy upper body, broader shoulder, slender ( strong ) legs. A simple A line kurtas look good. There is a long list on what needs to be avoided though. Kurta's with pleats, Heavy patiala style bottoms, Mandarin collars, yolk necks and big prints on kurtas needs to give a pass. Dark colored, V-neck, fitted straight kurtas with leggings or jeans looks the best. Cotton ones fare best with Apple shaped women.
 Pear Shaped Women:
Women with the booty 😛 Okay lets get serious now, it's the type of women who have thinner upper body and wider lower body. Since you have neat upper body your focus should be in flaunting them.If your bottom is heavy you can go for ombre type kurtas which are lighter in the upper part and gets dark in colour at the lower end. You can pick up the A-line kurtas, the sleevless one and it will look gorgeous. Even the one with racer back looks chic. Anarkalis go well, however make sure that it is not bottom heavy or there are not many layers.  The fitting needs to be perfect when it comes to lower part of the body, I mean not too tight, not too flowy just the right amount. Avoid large prints at the bottom of the kurtas.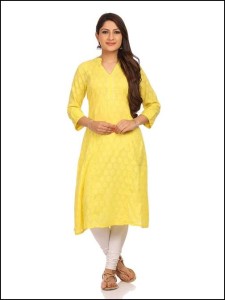 Hourglass Shaped Women:
You have the perfecto body !! Balanced upper and lower body, so flaunt it. A simple well fitted A -line kurtas will do the trick. I say avoid the Anarkalis and go for those long kurtas which will accentuate your body type or even the short kurtas with well fitted leggings. I have seen couple of girls wearing kaaftan. Though it looks good according to me it hinders the slim waist you have, I would say go for a slim belt on the middle of it. Thin belts can be used with the kurtas as well. Honestly everything looks good on you girl don't wear loose fittings kurtas 🙂 You can experiment with various neck designs.
Rectangular Shaped Women:
Women with not many curves and flat body. You can give curvy body illusions with the clothes you were. When it comes to kurtas you can choose the frock style kurtas or kurtas with flares. You can go for chudidars or skinny jeans.
What's most common form in all the body types is that the A-line straight fitted kurtas look good on most. Rangriti offers Kurtas for women in a budget range; you will find long kurtas in the budget you have, which will flatter your body type as well your choice.
I have come across plenty people with "oh every girl is beautiful in her own way" and all those gyann. Honestly I agree but I also believe that there isn't any harm in polishing the way we present ourselves and dressing style. Just try choosing the right clothes and you will rock it.
Happy shopping. Hope you found this article helpful.
Live Life To The Fullest
XOXO
SB
---
---