Coloressence Mesmerising Lip Color Moods in Maroon: Review,swatch,LOTD
Hello All 🙂
This review was supposed to go up way early, but..yeah there is a but part.
My dad managed to delete all the pout pictures, coz he dint like them. Lol he was not aware that the weird faces I made were for LOTD. And then the review took a back seat.
And then I deleted the file by mistake where I wrote the review lol
Now it's high time I talk about these and take extra extra precautions =))
Price: 175 INR for 4 g
My experience with this lipstick:
Packaging: Standard matte black packaging and the bullet sits in a pretty silver barrel. Honestly for the price the Packaging is good and sturdy. The shade name is at the bottom of the case.
Texture/Scent: The texture of the lipstick is smooth and little creamy. Glides easily on the lips. They do have a sweet scent to them, it does vanish but it is so unnecessary.
Shade: It's an out an out Oxblood shade with minute gold shimmer. That gold shimmer does not really translates on the lips, rather gets added to the beauty of the shades. If two layers are worn it almost looks Dark black based red. Gorgeous yes, for faint hearted yes. Coz you can wear it as a stain. Looks lovely.
Performance: The pigmentation is good. With one layer you get that pretty oxblood shade onto the lips which is not that in your face. The colour builds up equally on the lips there is no patchiness. The lipstick gave a semi matte finish. Which can be blotted and made it to matte finish. It stays about 3-4 hours without any issue and leaves a maroon tint behind. After about 2 hours it feels drying on lips if they have not been moisturized. It hasnot gone patchy on me.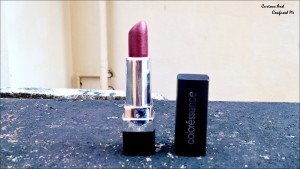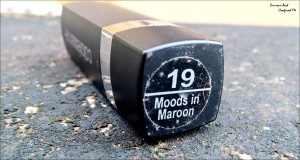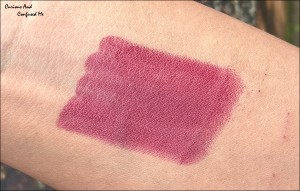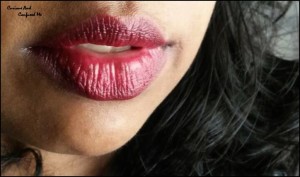 Pros:
Affordable, Pretty oxblood shade, Great formula, Good pigmentation ,Semi matte finish
Cons:
Many are going to whine about the shade, Some may not like the minute shimmer present and the semi matte finish, 3 hours of staying power
Last words: 
The problem with this range is that there is inconsistency within the range. Some are smooth; some are extremely pigmented ; some gets dragged; Some are drying.Though all the shades are good I would say go through the reviews or swatch them in the counter. I give thumbs up to this shade. Go ahead and try it if you like the shade or this range. Goth shade lover must try this. Affordable range with plenty shades to choose
from. Do try.
Have you tried this range? Have you tried Oxblood shade on your pout?
Live Life To The Fullest
XOXO
SB
---
---