VLCC Lovable Lips Lip Balm Rose and Cherry: Review, swatch
Hi All 🙂
Do you remember this Insta post?? I took all these lipbalms to my vacation!!
. It's okay if you dont remember this!! I just wanted a intro for this post lol . Also to show that my love for VLCC lipbalms goes back.
After Maybelline baby lips and Nivea lip care, the lipbalm which I loved is from VLCC. I have devored I mean used up Mango and Rose recently and before I could go ahead and buy more, I was sent these 2 VLCC Lovable Lips Lip Balm for review purpose. * I am dancing in the head *
Anyhoo lets get on to the review.
Price : 125 INR for Rose, 99INR for Cherry for 4.5 g
My experience with these lipbalms:
The packaging is simple and practical. And these lipbalm tubes come enclosed in cardboard box, which has all the details on it. The tube is twist up type one, the Rose has pink all over it and the Cherry one has a white body. The cap shuts effectively and since it's clear, the lipbalm can be seen. Only by the end of its lifetime, that is when the lip balm is about to get over the cap gets a little loose but nothing to worry about. The texture of these lipbalms is quite smooth. They glide on
smoothly and gives a decent tint to lips with 2 swipes. The Rose gives a Pink tint and The Cherry gives a brick Red tint. The Cherry one has more pigments than the Rose one, if you have non pigmented lips it can be easily passed as a sheer lipstick. The Rose has this weird chemical type of scent which goes away in a while whereas the Cherry one has a natural nice sweet fragrance. Also Rose is on the Glossy side and Cherry on the matte side.
These lipbalms gives nourishment and moisturizes lips for about 3-4 hours. It keeps the lips supple. I had these during my hill station trip; it gave slap of moiturization very well. But dint really hydrate that well and dint work on extremely chapped lips, that means these are not for the harsh winters. So for normal weather conditions and during the initial winters this would work well. These have SPF 15 as well, so it will protect the lips against any sun damage.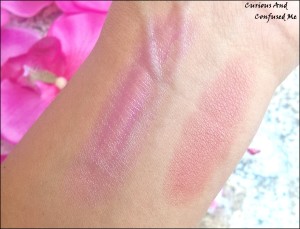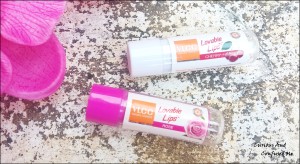 Pros
Easily available, Affordable, many variants to choose from, Nourishes and Moisturizes the lips, has SPF 15, Smooth texture, The Cherry has good tint.
Cons
The Rose variant has a weird scent, Not for the harsh winters
Last words:
We all are lipbalm crazy and we all hoard lipbalms like candies. These are affordable and works well for the price except in the harsh winters. As for me there will be
one or the other varient in my vanity. These can be tried.
Have you tried VLCC lipbalms? Which lipbalm is your favourite?
Live Life To The Fullest.
XOXO
SB
*PR sample
---
---