Elle 18 Color Pops Matte Lipstick : Code Red, Rust Rage, Deep Pink Review, swatch
Hello Cupcakes 🙂
Trends last month: Less active, less post, Less comments on others blog
But
Highly active while buying lipsticks 😛
Elle 18 Color Pops Matte Lipstick hit Indian market with gorgeous 20 shades. I have picked up 3 and tested them enough, So let's get into the review.
Price: 100 INR for 4.3g
Product Description: High color pay off, Pigmented, Matte lipstick
My Experience with Elle 18 Color Pops Matte Lipsticks:
Packaging: Black tube with girls face printed on it, the cap has a flat top. Pretty sight!! I haven't seen the caps travelling in the bag, The Tube cap shuts with click, but yet does not feel that sturdy. For the price they come in the packaging is good.
Texture: The texture is more on the creamy side; they glide smoothly on the lips. Though advertised as Matte, since the texture is creamy, the finish is more of a creamy matte. I have blotted it and applied a powder on top of it, to turn them into matte, and they do turn matte. So not a problem there.
Performance: Once applied they don't transfer like crazy, but they do transfer a little. So with Munch and sip the shade goes little by little. I would say overall 3-5 hours. The Rust Rage is fastest to fade and rest two kind of stays intact for long hours. These can't survive meal but the shades leave a tint behind. I haven't seen these bleeding, settling into fine lines or getting patchy. Since these are creamy mattes they are very comfortable on the lips too.
Shades:
Deep Pink : Raspberry Pink, Pigmented to the core, one swipe is enough, leaves a Pink tint behind.
Rust rage: It a Mix of Orange, Rust and Maroon. On my skin it looks exactly like a Rust shade, whereas on my fair skin toned friend, it looks almost maroonish. This needs about 2 swipes to look great, leaves a maroon tint behind.
Code red: Deep Red. Looks gorgeous on Deeper skin tones. This is pigmented a lot too, leaves a Red tint behind.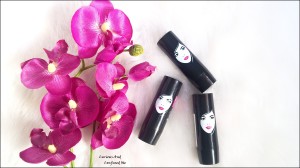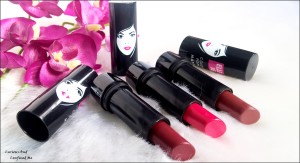 Pros
Affordable, Fantastic Shades, Good pigmentation, Creamy matte hence comfortable on lips, stays for 3-5 hours.
Cons
Not a perfect powder matte finish, Transfers a little, OOS most of the time.
Last words:
This range gets A+ from me. The Price, the Performance, the shades are all fantastic. I am trying to get more of these and I will be getting more of these once they
are in stock in local shops. Do I recommend? Hell Yeah!!! One can't miss these.
Have you tried these? Do you own any lipstick from Elle 18?
Live Life To The Fullest
XOXO
SB
---
---