Rimmel Extra Super Lash Building Mascara Electric Blue: Review, swatch
Hello Girlies 🙂
Don't tell me you never wanted to experiment with coloured Mascaras. I wanted to but at the same I was not really ready to shell out a lot. After all I don't know how it will end up looking. Elegant or straight clown..who knows 😛
And then one day I came across Rimmel Extra Super Lash Electric Blue Lash Building Mascara and got one for myself.
I am not really into doing Mascara reviews, as I don't know how to take the eye shots. But this one! My girlies!! I had to talk about it and I had to swatch it.
Price:275INR for 8ml
Product Description: Lash building formula, Maintains perfect lash separation and definition, No clumping or sticking, An eye opening experience!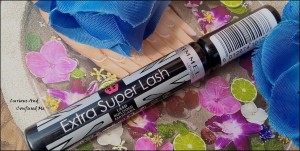 My Experience with BLUE Mascara:
The Mascara comes in a black body and has a coloured sticker at the bottom. Indicating the shade of the Mascara and the name. Light weight, sturdy tube, pretty easy to carry. The wand picks up the right amount of product to coat the lashes. Of course you need more than one coating, still excess product does not come out. The bristles are wider where they start and go onto become thinner at the end.
The 'Electric Blue' is indeed electric only. It's not a Royal blue or cobalt blue shade. It's blue which is bright. If I have confused you guys enough already lets move on further =)) The Mascara is creamy and goes on smoothly while coating the lashes. As I mentioned earlier about 2-3 cots are required for the shade to build up. But no clumping even after 3 coats. How good is that 🙂 But more coats than 3 means colour might become vibrant but lashes fall little flat.
The performance wise it stays as long as I remove it. There is flaking no smudging and being washable one no stress on lashes either. It is water resistant though. On the voluminizing and lengthening aspect, it's not like out heavy duty black ones which fans out our lashes. But gives a good effect to lashes to an extent. It lengths very well and curls my lashes pretty well.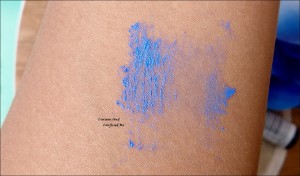 Being on the duskier side it shows its effect beautifully, when I have black liner on upper line and waterline. It's like giving that blue, a background to show up and stand out. However on the fair to medium it will show up on the bare eyes I believe. The pictures does not capture the beauty of the Mascara but in the real life it is evident on the lashes in a pretty way.
Pros:
It's Blue Mascara 😀 , Affordable, Practical light packaging, Colour stays almost whole day, Good voluminizing and lengthening effect on lashes, Does not flake and smudge, water resistance.
Cons
Not waterproof if you are looking into that, more than 3 coats means lashes starts falling flat.
Last words
I love it. I will buy the colorbar one next just to see which shade like the best as well as the backup of the next. If you are looking for coloured mascara in budget or a mascara to experiment get it. The cons are negligible. I have raved this enough allready. Recommend.
Have you tried this? Have you tried a Coloured mascara?
Live Life To The Fullest
XOXO
SB
---
---