Chambor Smooth On Liquid Eyeliner Black: Review,swatch
Hi All 🙂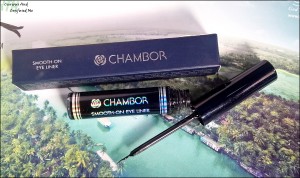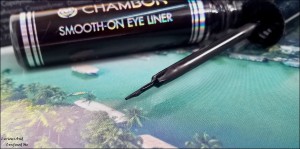 I love liquid liners specially the Matte ones. Not really a glossy , semi matte finish kind of person. But Matte liquid liners burns my eye. I started with elle 18 but that hardly stays for half a days. The rest brands I tried either burned my eyes or the applicator poked me eyes. The one that turned nice on eyes were glossy. You understand my situation right.
I was literally about to spend over 1.2K to buy a liquid liner of some international brands and Chambor Smooth-On Liquid Eyeliner was like the one last shot at the Indian brands. And then voila!! It turned out to be exactly what I wanted. I read reviews online before I bought this and this has been around since 5 years or so in the market, so not gonna go deep into the review.
Chambor Smooth-On Liquid Eyeliner comes in 4 shades and the one I have is in black. The liner comes in a travel friendly, light weight black tube. The applicator is perfect and picks up the right amount of product. The holographic writings on the tube is actually very pretty, very colourpopish types lol . Anyhoo the shade black is the deepest blackest and mother of black black. Which dries into perfect matte finish in no time. The applicator helps in drawing a perfect killer winged eyeliner, thick or thin it can be done in a jiffy. Once dried the eyeliner with its wings stays in place until I remove it at the end of day. The jet blackiness stays till the end of the day too. Along with that it is waterproof, smudgeproof and it gets off from eyes only with oil based remover completely. It doesnot even crack at the end of the day. It never irritated my eyes and I dont feel this on the eyes, its that light.
Overall I found my HG eyeliner finally and I am going to repurchase this forever. I don't think i'll experiment with any other liquid eyeliner ever. I understand that the price is on the higher side but when it comes to performance Chambor aces it.  So, If price is not an issue, I recommend this highly.
Price: Rs 695 INR.
Have you tried this? Are you matte liner girl or the shiney one?
Live Life To The Fullest
XOXO
SB
---
---