Organistick Lipstick in Light Maroon 03: Review, Swatch, LOTD
Hi All 🙂
I am a lipstick junky..No kidding!!! And you probably know it.
And when the brand called Organistick makes Lipsticks which are preservative free and organic,
Do you think imma sit?? 😛 So I bought a shade called Light Maroon 03 to test it out.
Lets get onto the review.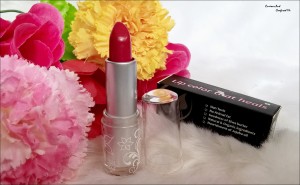 Price: 149INR
About the lipstick: Organistick Lipstick is one of kind product containing of all natural and organic components that make it long-lasting. Even excess usage of Organistick Lipstick won't cause any harm because of the organic as well as natural ingredients. You can find out more about the lipstick here: http://organistick.com/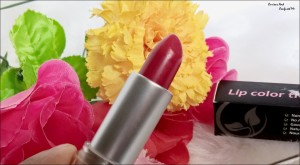 My experience with the lipstick:
Packaging: Lipstick came in a cardboard box with the details on it. The lipstick cap is transparent and the body is of silver color. In case if you are thinking of getting more( Read a bunch) than one lipstick from this range the transparent cap will help you ( Wink Wink) The rest are pretty normal, twist up and down, shade number sticker at the bottom and the cap clicks efficiently. Simple and sweet.
Shade: The shade I have is called light maroon which is a maroon shade there is nothing light about it. But it has a pinky undertones and that makes the face lit in no time. Imagine!! A girl who dont even talk to me, spoke to me just to give me compliment lol . It's that's pretty, maroon yet wearable and will suit everybody specially deeper skintones.
Texture/Scent: The texture is smooth and creamy. It slides on like dream on lips without any tugging. No odd or sweet scent either.
Performance: The lipstick gives a semi matte finish and gets opaque in 2 layers. Even with one layer it hides lip pigmentation very well. More layers mean just beauty of the shade increases. Being creamy in nature with sip ad munch in between it transfers. But all that happens equally. Post lunch a reddish tint gets left and you can touch up lipstick easily. Overall comes for about 4-5 hours. Being creamy and preservative free has its cons and pros, that the lipstick is smooth. Mine is already dangling!! Like its hanging for life in the bullet. So you gotta keep it straight and don't do too much travelling with it. Does not settle in fine lines, or bleed. Nada. There is nothing really bad in this lipstick which will disappoint.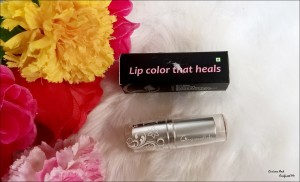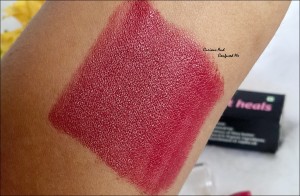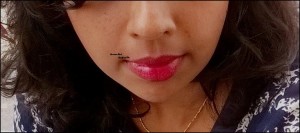 Pros:
Super affordable, Organic, No nasty chemicals, Great pigmentation, Good staying power
Cons:
Super soft bullet
Last Words: 
Overall I loved it despite it being a delicate darling. 149 INR preservative formula, gorgeous shade, lovely pigmentation, 4+ hour staying power. Cannot get better
than this. It's a must try according to me. The pigmentation, the performance blew my mind.
There are like 20 shades, you will be able to find a shade of your choice if not many. 
Well I have eyes on some shade and will get them soon too 😛
This shade  will go very well with the ethnic dresses and even on the black LBD. Okay!! I confess I am obessed with this shade 😛 
Have you tried this? Has this got you excited?
Live Life To The Fullest
XOXO
SB
---
---