Faces Ultime Pro Intense Gel Kajal : Review, swatch
Hello cupcakes,
A while ago I picked up one of the lipstick from faces which was in my wishlist from long. While I was browsing I came across Faces Ultime Pro Intense Gel Kajal. Though I did not even read any launch news, but since it was listed on Nykaa I bought it. I am not affiliated to Nykaa but I can can say one thing they sell original authentic stuff. So lets get onto the review.
Did I mention that I got this and lipstick for 25% off *Let's do the Happy dance*
Now business.
Price: 549INR for 1.2gms.
Product Description: Ultime Pro Intense Gel Kajal is formulated to deliver a dramatic definition with one easy swipe and easy to apply. It brightens the eyes with a pure, seductive and vibrant line of color Dark and Intense. It has One stroke application, gel finish and is super long wear. It also Comes with a smudger and has a sharpener free.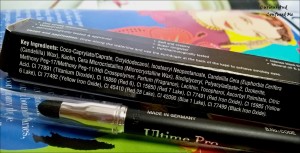 My Experience:
I wont drag too much here and just come to point. I don't know how to describe a pencil =)) Well the Faces Ultime Pro Intense Gel Kajal is a sharpanable pencil which comes with the free sharpener and smudger on the other side. A little product wastage is bound to happen. The shade is jet jet black, I remember my Chambor eyeliner description here, something like that lol . Texture of the Kajal is extremely smooth, it glides smoothly on the waterline with the bang on pigmentation.
Performance: On its own, On the waterline it smudges in about 3+ hours, though even after 5 hours I find the traces of it on waterline but smudging part is not acceptable. On the upper lashline it stays about 6+ hours. But still its gel kajal it is suppose to stay that much time on the waterline isnot it? I usually use this to tight line my eyes or a smudge base for an eye shadow near upper lash line. The smudger attached to this works efficiently.
However when I set the kajal with the eyeshadow, this stays intact for long hours, even on the waterline, like 5+, with not much smudging. Also there is a slight chill in there which is prolonging the wear time. I doubt this will stay long on oily lids during summer days.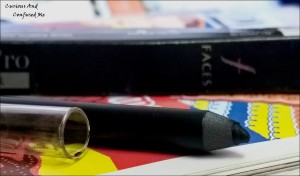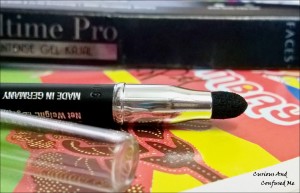 Pros:
Jet black shade, Nice formula, Smudger works nicely, no irrtation eyes, good performance with eye shadow on top,
Cons:
Not completly smudge proof, stays for an average amount of time even on the upper lash line, Shaprbnable
Last words:
No. This smudges and I don't recommend it. 
Live Life To The Fullest
XOXO
SB
---
---