Miss Claire Matte Lip Cream 42 and 35 : Review,swatch, swatches of all new shades
About Miss Claire Soft Matte Lip Cream: It's not gloss nor is it lipstick . Lipstick which goes creamy and gives matte finish.
Price: I paid 185INR ( 3$ ) (No fixed price )
My experience with Miss Claire Matte Lip Cream:
If you have been trying to zero on the Miss Claire shades, I have a news for you. Miss Claire has bought about 20 more shades to make our life more difficult. 😀
I have raved and done a detailed review about Miss Claire Matte Lip Cream 07 , 10 and 01. I picked up two shades 42 and 35 from the new shades. You can view the previous reviews for the detailed review, here I am just talking about these. The focus is more on the shades here girlies 🙂
The lipcreams end up giving matte finish on the lips. The shades have good pigmentation and good enough to hide lip pigmenation. Being on the matte side you might the feel the dryness if it is not prepped enough. How long they stay? for about 5+ hours, after the lunch the lower lip looses some shade. Again these are about 95% transfer proof.. Overall good as their big sista's 😛
Shade number 35 : Berry pink shade. It instanlty lifts up the entire face and one of the Berry pinks I own 😛 If you ever been shy of trying these kind of shades, get this inexpensive one you can experiment.
Shade number 45 : Mix of Brown, Red and Plump. Unique shade in my collection. This too perks up the face instantly. Out the two I bought, 42 is my fav. Something like Budapest of the Nyx soft matte lipcreams.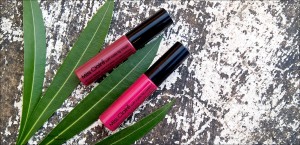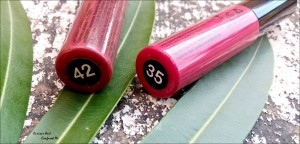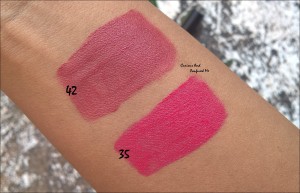 Pros:
Affordable, Matte finish, Transferproof, Long stay on lips, Pretty shades
Cons:
Nothing
Last words:
Also With many Instagram stores selling these I dont feel availability is an issue anymore with these beauties. You have to try these, you have to. No escape 😛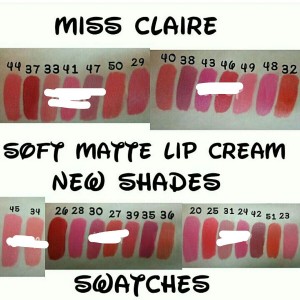 Have you tried this? Have you tried Nyx Matte lip cream?
Live life to the fullest
XOXO
SB
---
---