Hotel Valley View Mandi: Toiletries review
Hi All 🙂 
Hotel toiletries bring me joy.
Them miniatures *_*
And stealing them brings me immense joy =))
On the other thought we say we stole them, but I am pretty much sure the price gets covered in the bill we pay to stay in the rooms :/
Moving on!!!
After I stole this and proudly announced it on Instagram, Sonali of Skin Care villa blog wanted a review of these. So here it goes.
You can read  and see some pictures about my trip here: Click here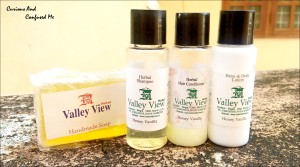 My experience with the toiletries as well the hotel : 
Herbal Honey-Vanilla soap: This Glycerin based soap pretty much works like Pears soap. Lathers well, smells citrusy, cleanses well and gets washed off easily. It's not that drying. Just a normal soap.
Herbal Honey-Vanilla Shampoo : This so called Honey-Vanilla shampoo smells that of Jasmine and cleanses the hair extremely well. Even if I have oiled the hair, it works very well. The yellow coloured shampoo lathers extremely well and gets washed off easily. The scent does not linger much if I use any other conditioner but with its matching conditioner the scent seems to linger a little. It is more of a vloumizing shampoo, suitable for normal hair. It needs a conditioner to be followed by, for the mane to look nice.
Herbal Honey-Vanilla conditioner: Even this confusing conditioner that says Honey-vanilla but smells like Jasmine. It reminds me of the ImliStreet Jasmine conditioner . The conditioner looks literally like a melted butter. For it to be effective it needs to be kept for about 4-5 minutes. Tames the mane for about 2 days.
Herbal Honey-Vanilla moisturizer/lotion: Well this moisturizer is the best of lot. This again misleading Honey-Vanilla combo, smells as that of the Jasmine, white in colour, liquidly in consistency. Slightly sticky to touch but while massing on body it gets absorbed quickly, leaving behind a healthy skin. It excellently moisturizes and hydrates the body for 10+ hours. This is perfect for the Hill station situation. Even in my humid city I enjoy it for my feet.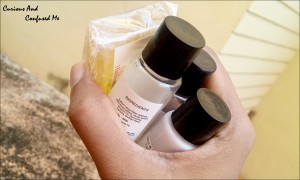 Is it worth staying in the hotel just to get these goodies: No. Besides, all the places in Kulu-Manali-Mandi pretty much have all these handmade toiletries.
Whether Hotel valley view is worth the stay? : I was in a suite which had double story/floors. I was so delighted with that suite and enjoyed my bed and comfort upstairs so much that forgot to click a picture. I don't even have a single picture of that suite. The hotel is situated on the highway of Chandigarh to Manali. So you can stay there to break the journey, when being on the way. The prices are on the pricier side but the Rooms, the calm place the scenery made it worth. I was in a group and one family had a complain that their room was a little dusty and untidy. However the rest of the 9 families including us dint have any complain. The food was above average, I wouldn't call it excellent but not bad either. You can get contact details from Google.
So have you stayed in this hotel? Does stealing toiletries bring you joy ( He he ) ?
Live Life To The Fullest
XOXO
SB
---
---