Aplava.com : What made me buy from them !! Review
Hello All 🙂 
I am not going to sit here and brew story on how I came across this website.
When APLAVA contacted me and asked me check them out talk about their website, I said "Okay, Let me check!! One more website for me to shop from".
Then I checked, then it caught my attention and I'll tell you all why.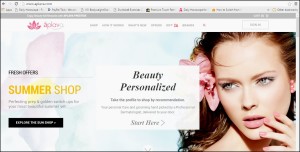 Before that a little bit about APLAVA:
Aplava is a startup beauty company who strives at bringing us prestigious brands which are 100% authentic. The name Aplava, which is pronounced as "AAp luv" is derived from from sanskrit origins. The name itself means taking a bath to purify oneself . They have a team of  Dermatologists and Beauty advisors and has products ranging from Skincare, Hair care, Bath & Body, Make Up, Fragrance, Sun & Travel, Intimacy, Shaving, Candles and Aromatherapy, Mom & Baby & Homecare. You can learn more about them here: Click here 
Now why Aplava.com caught my attention part:
1. Personalized Beauty Shopping
Step 1: You need to answer a questionnaire and create a beauty profile. This form is no joke, it's not just about whether you have oily skin, dry skin etc etc. This is a serious business. It has questions on when exactly you get oily, like start of the day or end of the day. See I said no joke. This helps their expert team to understand your exact needs and recommend the products.
Step 2: Next step is experts choosing you the right mix of products while your rest at home. These products will also be delivered to your home.
Step 3: Experts building you a beauty regime not to mention, the customized one to take care of your skin in right way.
2. International brands : For now they house brands like Korres, Kronokare , Mememe,  more will be introduced in the future. Plus our normal brands, it counts. We all know how difficult it is to get hold of international brands. Now you have access to these brands from the comfort of your home. Be it when you are searching for best face cream for women or makeup products, this online beauty store has all.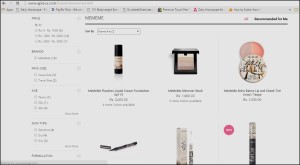 3. 100% Authentic products: Aplava brings over 5000 products straight from manufacturers/authorized distributors which makes it 100% authentic. I cannot emphasize on the authenticity of the products because when you receive a fake ones it's not just a question of money, you don't know what has gone into making those. So with Aplava we can breathe a sigh of relief.
Now if there is a website review there is a haul as well :
So how exactly the process went: I ordered what exactly I wanted from the product list. The website is easy to navigate as well. Initially I got a bit confused while accessing the website through mobile, but I got a hang of it in no time. As soon as I placed the order I received a email containing the invoice and the products I ordered in a neat way. Also I received a text message saying my order was placed. My order was dispatched the next day and I received the text containing the shipping details and parcel number to track it. I received the parcel in 3 days which is the normal number of days for me. If you live in a Metro you would receive the products within 2 days. I am impressed with the delivery.
The products were neatly wrapped in bubble wrap and neatly tucked in the box making sure that the products are not tripping in a Jolly ride while on the way to reach me. Along with that there was a Thankyou card and a coupon code which I will able to use it the next time I order from them.  Oh the products you ask : Its Mascara and Makeup remover . 
The things which I dint like : Not many discounts at the moment. There is no Out of the stock mentioned in case if any product is out of the stock. Not many brands at the moment. Free shipping only above 999INR.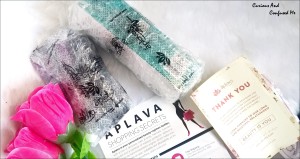 From placing the order till I received them I have no complains. There are some points which needs improvement and I am sure they will. Make sure you are checking out Aplava.com the next time you are buying Makeup, skincare, hair care or hair dryer online . Try it. 
Have you tried Aplava?
Live Life To The Fullest
XOXO
SB
---
---