Irresistible me Hair extensions !!
Hello All 🙂
One of the unsaid rule of being a girl is "I don't like my hair; I wish I had something else" Is not it? 😉 
Different styles: straight hair, wavy hair – different girls, different likings. But there is one thing everybody wants and that is: volume. Even if someone has long hair it doesn't mean that they also have volume. 
Let's be honest with the busy and hectic schedule we usually don't have so much time to focus on our hair. But fear not – hair extensions are the solution!
Hair extensions? Clips ins? What are those? They are some amazing hair accessories that can satiate all of your hair cravings.
Hair extensions, clip in hair extensions are everywhere, but what is not present everywhere is the quality. 
I remember my cousin used some hair extensions and God she hated them! 
So when someone makes an investment in hair extension it is best to buy hair extensions that are 100% Remy Human Hair.
Like the hair extensions that Irresistible me sells.
Irresistible me is a website who sells hair accessories, hair tools, clip on hair extensions and hair care. When it comes to the clip in hair extensions they have a lot of options like: Silky Touch, Royal Remy, Volume vixen, Ponytails, etc. The hair extensions from Irresistible are Remy Human Hair which the finest quality of human hair.  As I previously said the quality is the most important thing and Irresistible me makes high quality extensions at a friendly price.  The clips they use for the clip ins are really sturdy and secure so you don't have to worry about them slipping, they won't move.  Also you won't feel a thing when the extensions are in. The snap-on clips are sewn onto the hair extensions that you will clip to your own hair.
The clip ins are pretty easy to use. They are not like the hair extensions that need to be installed at the hair salon (the one that takes a lot of time, need an appointment with the hair stylist and a lot of maintaining). Clip ins can be easily clipped onto your hair whenever you feel like going glam or just for everyday use. I mean at the end of the day you can always take them off.
The Irresistible Me clip on hair extension offer length options from 14 to 24 inch. One of the most fascinating clip ins for me is the Ponytail.  I mean just look at it, it goes from regular hair to full voluminous pony in no time. The Clip in hair extensions from Irresistible Me have a lifespan between 3 to 9 months depending on how you take care of them.
They ship worldwide and accept all major credit cards, PayPal payments and Amazon Payments. The payment gateway is completely secure. You can get your order in approximately 8 to 10 working days. They also provide tracking details to track the package.
In short Irresistible Me has made sure we get the best quality Clip on hair extensions on the market. They are offering 20% on the first orders too. Do check them out.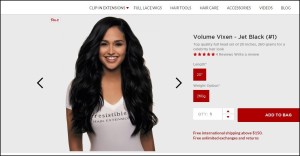 Live Life To The Fullest
XOXO
SB
---
---