Nagal Khadi Gram Udyog Handmade Soaps review
Hi All 🙂
Nagal Khadi Gram Udyog Handmade Soaps were bought in my Shimla-Manali Trip. Many of you wanted a review of it, so here is the short review of it.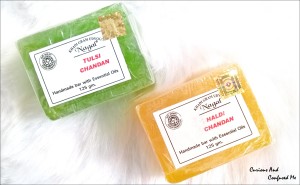 Price: 60INR 
The soaps were sealed in a thin plastic cover, which has all the details at the back of it and they are rectangular in shape. Though to look variants are Yellow and green in colour, when it comes to scent and performance they are basically the same. They smell like soap. Yeah I mean I wanted them to smell something nice, not like a generic Soap. I might sound crazy but you know what I mean right? The glycerin based soaps are in between soft and Hard. They dint lather much, not much bubble nothing. But they did their basic work that is cleansing the body well and did not dry the skin out. Not bad!!!!
Am I impressed? Not really. I mean the price is affordable, it's all good, its handmade and all, but apart from that there is not much. But Khadi Gram Udyog it's an initiative taken by the several state governments. Their main objective is to make the khadi cloth and Indian rural traditional handicraft item famous in domestic and international markets. It gives lot of people work. So if you keep all that in mind. One should give it a try 🙂
Have you tried this?
Live LiFe To The Fullest
XOXO
SB
---
---