Chambor Orosa Lip Perfection Lipstick in Berry Crush 553 : Review, swatch, LOTD
Hello All 🙂
I bought Chambor Orosa lipstick as a part of the my birthday haul , last Year November.
But even now I don't know whether I love it or its just okay.
So I decided to put my views out for you guys.
Lets move onto review shall we.
Price : 995INR ( $15 )
Product Description: A Lipstick that rejuvenates, moisturizes and smoothens the lips, Its Triple Firming Action restores volume and firmness while keeping your lips super soft and nourished. Packed with antioxidants and vitamins, it visibly reduces lip creases with every application, No animal ingredient, Dermatologically tested.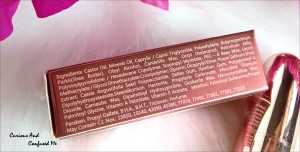 My Experience with Chambor Orosa Berry Crush 553 Lip Perfection Lipstick:
Packaging: The packaging of lipstick is awesomesause….like really awesomesause. It's Rose gold in shade and has a moulded cap. It looks like a Rose Gold version of Gerard cosmetics lipstick.
Texture: The texture of this lipstick is extremely smooth, buttery creamy. So creamy that it might break from the base in extreme summers.Bullet breaking is worst thing ever for a lipstick lover in general a makeup lover.
Scent: The lipstick has this Orange cream biscuit scent to it, which I absolutely love along with the Minty feel on the lips after the application.
Pigmentation: It's again awesomesause. You just need to touch the lips with the bullet and the lips will get the exact shade as the bullet. Two, three swipes will just increase the richness of the shade, but even after gazillion swipes you won't feel the product on the lips. Hides the lip pigmentation very well.
Shade: The shade Berry crush is a mix of subtle berry pink , mauve with the Rose undertone . Offices wear types. (Who am I kidding, Magenta and Purple shades is office wear for me. You guys only decide) 😀 This shade will suit fare to dusky tones only. It might wash out Deeper skintone. One more thing you will have to conceal any darkness around the mouth, to flaunt this shade.
Performance: After the initial 2 hours the lipstick stars losing its intensity, the color starts fading evenly. The lipstick stays maximum for 4 hours. If you keep munching and eating expect the intensity to go down faster, nature of creamy lipsticks. It did not survive a meal. Left an extremely light pink tint after the meal. I feel the darker shades have much better performance. It did not settle in fine lines, did not bleed and did not dry out the lips. In fact this lipstick soothes lips and gives that fuller pout effect.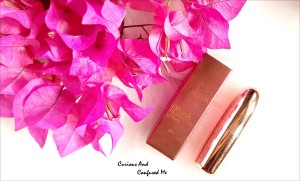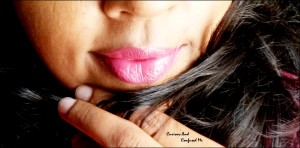 Chambor Orosa Berry Crush 553 Lip Perfection Lipstick is a Creamy, lightweight lipstick with 3-4 hours staying power, good color payoff, which is comfortable on the lips.
I bought it as a part of the birthday shopping as a treat, it is special, it looks special and I am extremely happy about it. As a lipstick hoarder I am proud of it.Though I loved the shade and the feel of the lipstick, I cannot let go the fact that it's performance is as same as that of the lipstick that costs 1/3rd of it's price. If You are keen on the No animal ingredient part, the packed with antioxidants and vitamins part, luxurious part and ready to splurge, go ahead. I think it's fantastic "I am special to me" gift or to a BFF. Apart from that I don't really find anything extraordinary in it and you wont miss anything if you skip the range. 
Have you tried this? What are your views on it ?
Live Life To The Fullest
XOXO
SB
---
---