Miss Claire Matte Lip Cream 10 and 01 : Review, swatch, LOTD
Price: I paid 180INR ( 3$ ) (Does not have a fixed price, some have paid as low as 130INR )
About Miss Claire Soft Matte Lip Cream: It's not lipstick nor is it gloss. It s like nothing that you have experienced before. It's lipstick that goes on smoothly but looks matte.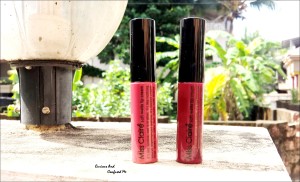 My experience with Miss Claire Matte Lip Cream:
I have raved about Miss Claire Matte Lip Cream 07 ( Review here ). I picked up two more shades 10 and 01. I am not going to go deep into the reviews of this as I find the performance of these same and one can check my previous review for the detailed one. These lip creams have a creamy texture ( Duh) which dries down to matte finish in about 15 minutes. Once it sets, you wont feel this on lips. It's matte and 98% transfer proof. Lips feel the dryness only by the end of the wear time. It survives light snacks and drink, center of lips loose the shade after the full meal ( If it is rich). Touch up and you are good to go. Only if you sit without talking, survive on air it stays for 7+ hours =)) Still fantastic staying power for the price we paid.  Since its matte prepping the lips is must.
Shade number 10 : Deep Red with a little Pink undertones . It is pigmented enough. My favorite of applying this is as a stain. Just one swipe on lip, press both lips together and spread it using fingers, that's how I like it. This shade will suit everybody, Dusky to medium can rock this shade.
Shade number 01 : Coral/Orange Red. This is tricky shade on my Dusky skintone. It makes me look tanned if I wear this to its full intensity. I spread a thin layer of this , so that it looks natural and sometime I lightly dab brown lipstick on the top of that. I feel it is best suited for fair to Medium skin tones.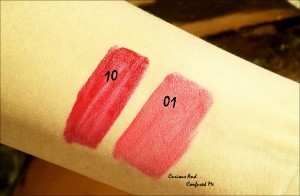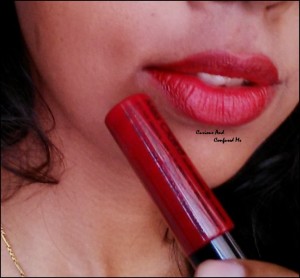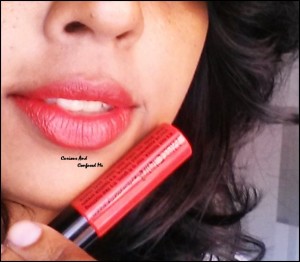 Pros:
Affordable, Creamy texture that sets into matte finish, transferproof, Great shades, long wearing lipcolor 
Cons:
Availability
Last words:
It has its con, but the rate and the performance beats it. It's awesomesause. Try getting one.
Have you tried this? Have you tried Nyx Matte lip cream?
Live life to the fullest
XOXO
SB
---
---