PAC Auto Lip Liner Ruby : Review, swatch
Hello All 🙂 
PAC has been doing a lot of PAC PAC lately.
Their brushes are everywhere, lip pots and those Oval brushes.
Overwhelmed by the collection and affordable rates, I settled for a PAC auto lip liner.
As I needed one and it was perfect way to get something from the brand.
Price : 285INR for .35gms.
What PAC says: PAC auto lip liner is a unique formulation which is waterproof & long-lasting. A lip liner which is going to help[ your lipstick to last longer than you expected. The vitamin C & E content in the lip liner is going to keep your lips nourished & moisturized at the same time. PAC auto lip liner can be used as a pure lipstick & the lip liner.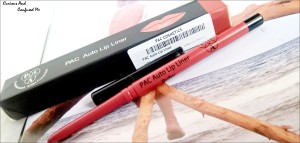 My experience with the PAC auto lip liner:
Shade : The shade "Ruby" is a Ruby red as the name suggest. It looks like a neutral red shade and works like one too. Only if you smudge it purposely you can see the pink undertones.
Texture and pigmentation: Super smooth and glides on very easily. With the amazing pigmentation. Though quantity is less, the pigmentation is so great that you just need one swipe of this, no need of building up the product.
Packaging: It's a twist type packaging, the color of the body is as same as that of the shade and has the shade name written on it with the black cap. Very sturdy and travel friendly.
Performance : The finish is matte and it's a lip liner. Hence don't bother skipping prepping the lips. Which is scrubbing and moisturizing thoroughly. It is not one of those drying, clinging to lips kind of lip liner. Rather it is Creamy lip liner which is not drying types. It has effectively stopped the lipstick from smudging, bleeding and increased its wear time. I am not a lipliner person but with the red lipstick I think you need one. As the Red lipstick have a tendency to move from lips. On its own it stayed until I removed it. It went like this, under the creamy lipsticks its lasted like 5+ hours on me with the long staying liquid lipstick it stayed until I removed it. You can even use it as a lipstick , but I havenot used it so I don't know how it performs that way.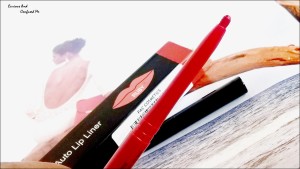 Pros:
Affordable, Great texture, Great pigmentation, Long staying, twist up type, easily available online
Cons:
None
Last words:
There is nothing that I dint like about this lipliner. Its available only online but we all buy online more than offline so its not a problem. PAC has too many Reds in this lipliner range. Hope they introduce more shades like brown , plum. The shade Ruby goes with all my Pink red, Orangy Red, Neutral red and Brown Reds.
Its affordable, twist up type, packed with punch of colour for your puckers, good staying power and does what lip liner supposed to do with good staying power.
The bumble bee strung lips girl recommend you to try one and she is gonna try more.
Have you tried this? Have you tried anything from the brand PAC?
Live Life To The Fullest
XOXO
SB
---
---