Things A Dark/Bright lipstick lover get to hear !!!
Hello 🙂 
Being a Dark/Bright lipstick lover, is not easy. You get comments from natural lip lovers, weird stares from Aunties, a kid following you through out the super market trip coz of your purple lips =)) and what not .. So here are some things I get to hear often and you might be too. This is just fun girls, just fun.
Hey that's not an everyday shade :
Okay since we are talking about crimes, I think the leggings you wear does not count as Jeans. I think that's a bigger crime.
Dark lips and Dark eye don't go together. You cant wear anything on the eyes with Dark lips!!
There is something called as balance. Ughh whom M I talking to? More over why?
SA's while picking the bright lipsticks. Ummm party shades..
You mean to say I am a party animal.Wow I din't know :O

While picking up Dark/maroon shades : Buying for MOM/Aunty?
So when Kylie jenner wears brown shades it's fashion and when I wear what I want I am questioned!! Woah !! Damn you!!
I like kim Kardashian lips… Soooo natural not your lips!!!
Ummm what about the rest of the artistry up there bruh ( or sista)!!!. You gotta agree that there is difference between KIM K artistry and two lines we draw. Honestly many have absolutely no idea about that (as if I have, but still)
The next situation legit happened with me in office:
MS.XYZ : When I wear Red lipstick, I look like clown, pointing at me ( The Ms is nasty, she comments all sorts of nonsense and that day I had it)
Me: Wait!! You said with or without 😉
So untill I left that job, the women devoted her time to spoil my work, not that she was not before 😉 But still It was Burn!!! Situation.  Beside with N*de shades even the following can happen: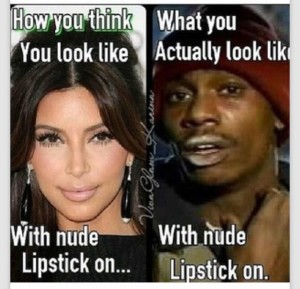 Now I have absolutely nothing against people who like/prefer n*de/natural shades. I understand that it is a choice just like how I love Bright/Dark lipstick. But don't come under pressure or think about what others think and restrict yourself from what you like the most.  Trust me I have been promoted at work, because of my work and all that when I had Magenta lips on. Lets stop associating colors with season. Respect others choices. But please don't force others to do the same. Be a badas* 😉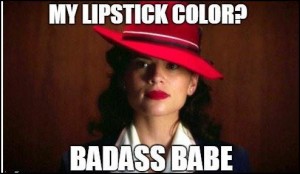 Live Life To The Fullest
XOXO
SB
Ps: None of the images are mine. I found these meme in multiple places.
---
---