Imli Street Wild Rose with Loofah Bathing Bar: Review
Hi All 🙂
When I saw this Imli Street Wild Rose with Loofah Bathing Bar's review in Shayoni's blog Sweet and bitter blog, I said I must have this afterall it's a Soap with the loofah in it :O
But still it was stuck in waiting list.
Then one day I saw this on 50% , I said the hell with the waiting list and that's how this came home.
Price: 160INR for 150gms.
My experience with this soap:
The first thing you will notice about the soap is it's scent. It will hit you even before you open the initial wrapper. The scent is natural and pleasing even to my picky nose. It says wild Rose and smells like one too. The soap is light pink in color. The loofah kinda peeks from one side of the soap whereas the other side has a normal smooth soap.The loofah works fine and effectively exfoliates. It works delicately initially, as the days passes by the loofah gets exposed more and more , in turn the exfoliation becomes stronger. Nonetheless it is one multi use product.
I have normal skin with dry feet, skin feels okay post bath but feet feels bit dry, dry skinned girls cant skip moisturizer with this.Post bath I get that squeaky clean feel, well exfoliated skin and no stickiness. The scent doesn't linger.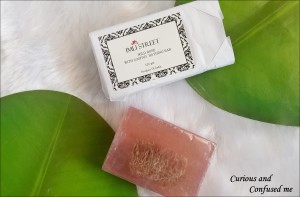 It is the one of kind soap I have used till now. The soap doesn't have SLS but has SLES. Still a soap which cleanses the body without the sticky feel and exfoliates the body well without being harsh. You cant skip moiturizer with this. 
Even if you are not much into soap do try this, because we all have that one lazy day, this is perfect for that kinda day!! 😛
Who invented this?? #bowsdown 😛
Have you tried this? Have you used a soap like this?
Live Life To The Fullest
XOXO
SB
---
---