Vaadi Herbals Royal Indian Khus Soap: Review
Hi All 🙂
Khus Khus..
Mmm Yum yum!!!
If you know what I am talking about, you my dear freind, you love sarcasm as much as I do!!
Now, intro has nothing to do with the review, just that the Khus word reminds me of those line.
Today I bring Vaadi Herbals Royal Indian Khus Soap.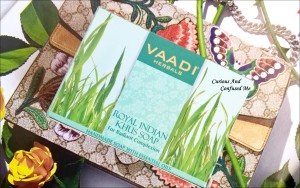 Price: 38 INR for 75 g
My Experience with Vaadi Herbals Royal Indian Khus Soap :
Just like the Vaadi Herbals Fruit Splash Soap the packaging is simple and to the point. Cardboard box with the soap, that is neatly wrapped in plastic. Hygeine guranteed!! A neatly cut light Green soap has amazing scent. Imagine incense sticks, but pleasant one.
Just like the previous Vaadi soaps I have used the soap lathers nicely with just touch of water, cleanses the body well, gets washed off easily, giving a squeaky clean feel. Even if you have used some sort of oil for bath, it works really well. Also it does not dry out the skin!! But Dry skinned beauties, sorry you can't skip the moisturizer. The scent lingers on body for a long time and it makes your bathroom smell great too. I feel rejuvenated after the bath. The Khus, the lemon and the olive oil, makes it refreshing for the summer/humid weather.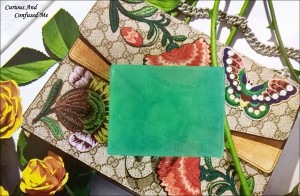 The detailed ingredients list is missing, that is the only reason I don't really order these for Mum. So if you are concerned about the ingredients list you can skip these. I use Vaadi soap all the time and never had any allergic reaction to any. I don't use soaps on the face so I don't know how these will fare there.
Overall it's a nice soap, at an affordable rate, does not dry out the skin . I Recommend this soap and the rest Vaadi soaps in general.
What do you think about this? Have you tried any Vaadi soaps or any Vaadi product??
Live life to the fullest
XOXO
SB
---
---