Fab India Panchpushp Makeup Remover: Review
Hi all 🙂
While browsing online I came across Fab India Panchpushp cleaning oil. I wanted to try that since cleaning oil/balm seems to be everywhere. But……….
There is allways a But!!!
The cleaning oil wasn't there in the store, but Fab India Panchpushp Makeup Remover caught my eyes.
So I got this instead.
Lets see how this fared with me.
Price: 295INR for 100 ml
What Fab India says:-
"This soap-free makeup remover contains extracts of rose, jasmine, lavender, chamomile and geranium. It gently and effectively removes makeup while cleansing and toning without stripping the skin of its natural moisture."
My experience with the Fab India Panchpushp Makeup Remover:
Packaging: I love it when a product comes in a pump packaging. I dont know it makes me so much in control types lol .The Makeup remover comes in a plastic cylindrical bottle, which has a tight cap. This big bottle is travel friendly and it has a pump!! Yes!!!!
Scent: Panchpushp means five flowers and thats how it exactly it smells like. Though blend of flowers but it is dominated by Rose, it's still nice and soothing.
Texture: The makeup remover is in liquid form in the bottle, but when you pump it, the liquid turns into foam and thats what comes out.
How I use it and Performance: FabIndia says Pump it on the cotton, but I usually pump it on the back of my hand and take little by little as required.
When I used it for the first time, when the foam touched my face, it felt dry!! Not effective!! but I was wrong!!! It effectively removes light to stubborn makeup without any hassle. Though for stubborn makeup removal second round is required ( read foundation) the rest long eye makeup, lip makeup comes out in one go. I haven't tested it for waterproof mascara. Not sure about that.
Post removing makeup it doesn't leave dried face rather a matte face. It doesn't leave behind any residue no greasiness, no white thing NADA! Its good one. If it's day time I usually splash water and follow up with the moisturizer, when used it during night I continue with my regular night routine. That is facewash, toner yada yada. This hasn't broken me out.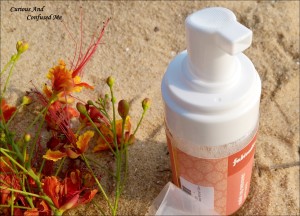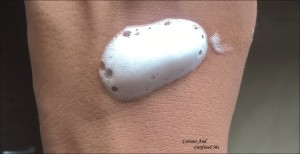 I cannot think of any con apart from it's availability. When I peeked inside Fabindia last week and creeped out the Door guy , I could spot the cleansing oil and not this. Weird!! 
I have been using it for a month now and still half bottle is left. Affordable, works well, no irritation to skin and that soothing scent makes it a must try !!!
Do give Fab India Panchpushp Makeup Remover a try if you are looking for a makeup remover.
Have you tried this? Have you spotted this? 
Live Life to the fullest
XOXO
SB 
---
---