CoverGirl Eye Enhancers eyeshadow – Brown Smolder : Review
Hi All 🙂
This eye shadow is a part of the US drugstrore haul I did back in February. Reasons I wanted this.
1. I wanted something from CoverGirl.
2. Dark brown Matte eyeshadow which can basically multitask
3. A single eyeshadow which is travel freindly and comes with dress unlike the Inglot freedom system eyeshadow. 
Price: $3 – $4.49 (Price varies across stores) for 2.5g
What they say:
Simple, single eye shadow shades with a silky sheer formula. Mix and match them the way you want to create your own combos with matte, pearly, or sparkly shades! They blend easily for a natural eye makeup look.
Ingredients:
My thoughts on Covergirl Eye Enhancers Brown Smolder:
Brown Smolder is a brown shade which has matte finish. It is that perfect shade which I had in my mind from the last 2-3 years, everything I bought were either shimmery or taupe like the Miyo eyeshadow or weird shade ( You dont wanna know!!!).
In the pan it looks like there is a shimmer, but the eyeshadow has a  perfect matte finish.
The eyeshadow comes with the dress…err I mean it comes in a plastic case. Has a secured lid which is travel friendly. There is a useless sponge tip applicator, I have made my peace with it as I have seen that even the most expensive ones comes with this kind. There is no Mirror in it.
Brown Smolder eyeshadow has a smooth texture, no chalky feel and no fallout and pretty easy to blend. The pigmentation is good I would say in between, you get the pan color on the lid. This shade is a dupe of some MAC eyeshadow, No idea about the shade name though.
Performance wise too this pleased me, it stayed 5+ hours on the bare lids and pretty much whole day with primer without creasing. Pretty good huh!!!!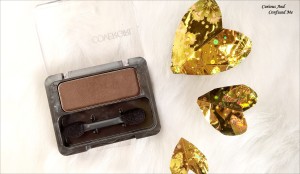 I love this. I use this as a contour shade, as a brow filler, as a eyeliner , overrall lid color, to smudge the kajal, as crease color. It ticks all the right boxes and made it to one of my perfect buys.
Just like the Elf studio Blush  I recommend this if you can get this in the original price. 
Multitasker, easy on pocket, daily use shade, travel friendly and good staying power!! What more one wants!!!
Do you have any perfect eyeshadow shade in mind? Have you tried this brand?
Live life to the fullest
XOXO
SB
---
---