Studiowest Pure Passion Kajal Black: Review, swatch, EOTD
Hi All 🙂
Westside launched their beauty line called StudioWest cosmetics. Very welcoming.
But it's not available everywhere very unwelcoming.
Amazing products at affordable products exactly what we need in the Indian drugstore market right now.
Hasn't reached my city yet but I managed to pick 2 things from Studiowest makeup range during my last visit to Bangalore.
I initially planned to do single post of two products but then I wrote too much story and could not let go some of the clicks.
Today me talks about Studiowest Pure Passion Kajal in Black pack. 
By the way Westside is retail arm of the Tata group, which started in 1998.
Price: 195INR
3 shades avaible: Black pack, Olive and Brown
My experience with Studiowest Pure Passion Kajal:
Packaging and Texture: Studiowest Pure Passion Kajal Black comes in all black, light weighted, travel friendly, and twist up type pencil. The Kajal does not have any scent. It's creamy, soft and does not tug not while application.
Shade and pigmentation: The shade is black not the jet black types but black enough, no grey or green tones in them. The Pigmentation is good too; on waterline 2 swipes are needed, whereas on the lash line 1 swipe!! You know just the usual.
Performance: On its own it has not given me watery eyes. Also, when the eyes got watery the Kajal did not get smudge or rolled down the cheeks. It's water resistant to an extent; few splash of water does not do much harm. It lasts really long on the lashline and about 4+ hours on waterline. You need a proper makeup remover to remove it completely.
Its smudge proof to an extent, smudging is really minimal. But it smudges relatively faster on bare lids or if there is oily eye cream near waterline. So prepping skin would be good idea!!! Nothing major, just apply it on the powdered base. I have a habit of setting my Kajal with black eye shadow, so I rarely have any problem with it.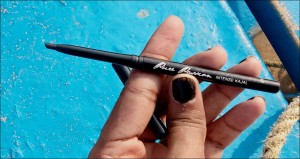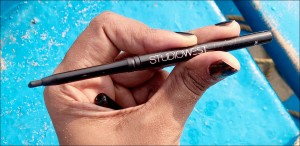 Final Words: I liked it. Studiowest Pure Passion Kajal Black is good Kajal with the good staying power and pigmentation at affordable rate.
Why I recommend : Indian brand, bringing us stuff in affordable pricing, quality is good too!! Why not give a try!!
Have you tried any StudioWest cosmetics? Heard of this brand?
Live Life To The Fullest
XOXO
SB
---
---