US Drugstore makeup haul :)
Hi All 🙂
So my bestie who lives in US is here ( Yay )  . It means lot of heart to heart talks and US makeup lol. It was the…ahh let's just hope onto the business shall we. You are here to see the makeup stuff and here it is. It's basically me, bright lips neutral eyes!!!
Maybelline Vivid Matte liquid lip colour: The longer US version of the velvet matte we have here. Looks like the US drank complan or some health drink and got taller =)) In Berry Boost, Rebel Red and Possessed Plum (A fun Deep eggplant purple color to satiate my gothic thirst)
Maybelline Color Blur Cream Matte Pencil in Berry misbehaved: If you have been wondering why the MNY colour gradation which was launched recently did not make an appearance in the blog, this is the reason why… Not that I knew it was in the bunch but still.

Maybelline Color Tattoo Concentrated Crayon in Charcoal Chrome ( Review here) : If you don't know yet, the colour tattoo comes in Chubby stick form now. Just launched types.
These were the multipurpose type, A covergirl single eyeshadow ( Review here ) , Elf neutral blush ( Review here)  and Rimmel london beige matte khol.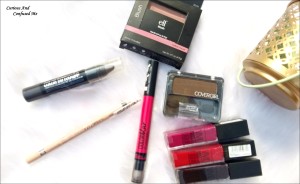 I'll keep the post really short as I have some work I need to sort out. Please excuse the pictures, they aren't really of top quality but I wanted to share makeup happiness with you all. Also, stay tuned for reviews.
PS: No hate comments please 😛 Makeup blog is suppose to have makeup =)) By the way I paid for this.
Follow me on bloglovin and i'll follow back 🙂
Live life to the fullest
XOXO
SB
---
---