Patanjali Neem and Tulsi Facewash : Review
Hi All 🙂
I am doing a little bit effort in my skincare right now to go natural way, paraben free, chemical free. So this time I opted for facewash from Patanjali Ayurveda . Here's the review.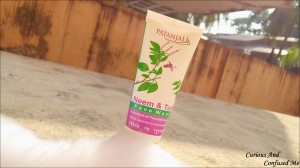 Price: 45INR for 60gm.
About the product: Facewash Information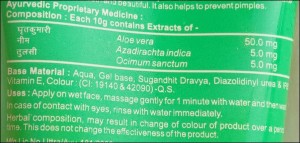 My Experience with Patanjali Neem and Tulsi Face Wash:
Once my friend said " When you blogger use something it works, when I use, it gives me mother a$$ pimple, or no effect on that". I thought the same happened with me this time. If you quickly wash your face with the face wash, it cleanses and removes the dirt, oil from the face, that's all. It had absolutely no effect on the pimple I had on my forehead. Face wash and Pimple seemed to mind its own business. And then came the instruction reading part. As per the instruction one needs to massage the face for 1 min with facewash on. And I did this and I could see the reduction in the pimple size from the first wash. Along with that it controlled oil for good amount of time.
Whether you massage it or not it effectively cleanses your face without drying it out. And it has not caused any irritation to the skin.
The rest details: The packaging is flip-open cap tube; Gel type consistency; Smell is nothing distinguishable; pea sized amount is enough.
Cons: Availability. Its available only in Patanjali counter but always OOS. I got this after asking around for 1 month. I am sure the counter girl thinks I am some maniac by this time.
If you have oily/combination skin, I am sure you will like this. Patanjali Neem and Tulsi Facewash is a good affordable facewash which has effect on pimple without drying out the skin. But remember one thing!! For it to work correctly you need to massage this on the face for 1 min. It's paraben free as well.
Have you used this? Do you think what my friend said is accurate 😛 ? 
Live Life to the Fullest
XOXO
SB
---
---