Miss Claire Soft Matte Lip Cream 07 : Review, swatch, LOTD
Hi All 🙂
How you been? As I meantioned in the previous haul post I had some works needed to be sorted out, so I was missing in Action.
Anyhoo, about 15 days ago one of the dear readers of the blog asked my opinion about Miss Claire Soft Matte Lip Cream, Coloressece and Incolor Matte me lipcolor. I could not give one as I hadnot tried any, but mentioned that I'll try getting hold of them. Today I have Miss Claire Soft Matte Lip Cream in shade 07 for you all.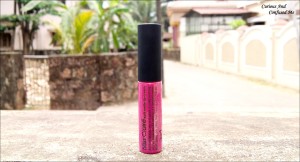 Price: I paid 180INR ( 3$ ) (Does not have a fixed price, some have paid as low as 130INR )
About Miss Claire Soft Matte Lip Cream: It's not lipstick nor is it gloss. It s like nothing that you have experienced before. It's lipstick that goes on smoothly but looks matte.
Why all the hype and why all the Gaga: Miss Claire Soft Matte Lip Creams are famous for being dupes of Nyx Soft Matte Lip Creams. Most of the shades do look similar to that of Nyx Soft Matte Lip Creams and it's said that the formula is quite similar too. So they are famous, they are OOS all the time and not available everywhere.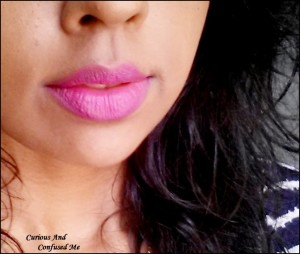 If you are impatient and want to know my opinion: It's awesomesause. Try getting one. If you are patient enough for the dissection, here it is.
Packaging: Miss Claire Soft Matte Lip Cream has a fuss free and chic packaging. Transparent plastic tube , black screw cap with the doe foot applicator. You can easily spread the product on the lips with the applicator.
Texture: Very creamy texture that turns matte after sometime like 15 minutes. You can take your own time to apply it on the lips, no need to be in a panic mode while applying it.
Pigmentation and shade: It's pigmented enough; one swipe and you get the shade. The shade I have is 07 which is bright Pink and has blue undertones. It's a suitable for fair to medium skintones, deeper skintones can't carry this shade off. It does flatter my Dusky/Olive skintone with the hint of neon. Whenever I need a deeper color one swipe of Maybelline Electro pop in Pink Shock under the lipcream and I get that magenta touch.
Performance: Once the lip cream sets into matte finish you won't feel the product on the lips and it is 98% transfer-proof. It's comfortable throughout the wear time. My lips are normal, only sometimes it goes into SOS mode. But I do perform the normal drill before applying them, that is exfoliating the lips and moisturizing them thoroughly. Lips feel the dryness only by the end of the wear time. Once it sets and stays on lips for 7+ hours. It survives light snacks and drink, only the center of lip looses the shade after the full meal ( If it is rich). Touch up and you are good to go.
Pros:
Affordable, Creamy texture that sets into matte finish, transferproof, Great shades, long wearing lipcolor 
Cons:
Availability
Last words:
Now I understand the hype around Miss Claire Soft Matte Lip Cream and I will be buying more of these when the rest colours come in stock. This shade might not be for everyone but there are plenty of shades to choose from. With insta stores and online shops selling it availability might not be problem in near future. Final words: It's awesomesause. Try getting one.
Review of shade no 01 and 10 here: Click here for the review
One more thing I would have recommend this even if they weren't called as Dupes, because I think it is great on its own.
Have you tried this? Have you tried Nyx Matte lip cream?
Live life to the fullest
XOXO
SB
Follow me on bloglovin and i'll follow back 🙂
---
---