Maybelline Color Tattoo Concentrated Crayon in Charcoal Chrome: Review , Swatch , EOTD
Hi All 🙂
Maybelline Eyestudio Color Tattoo Concentrated Crayon is a part of US Maybelline Spring 2016 Collection and comes in 10 permanent shades. The one I have is Charcoal Chrome. The Color Tattoo's originally came in potted version.  I asked my bff to pick one since these were a new launch ( Ahem ahem) . Yeah this was the part of the US Drugstore makeup haul as well.
Price: $6.99 ( Varies from store to store )
Maybelline describes them as: Maybelline's Colour Tattoo Concentrated Crayon has all day tattoo tenacity and playful colour intensity in an easy, glide on crayon. High-intensity colour keeps eyes looking vibrant all-day long, Smooth, soft creamy finish, Playful, intense colours.
Experience with Maybelline Colour Tattoo Concentrated Crayon:
Packaging: It is not something which we have-not seen already. Plastic body, Silver writings on the packaging, transparent cap and colored bottom according to the shade. The cap goes on a trip if it is not pressed tightly, followed by a click. Good thing is that it is a twist up type, no sharpening required.
Formula/Texture: The formula is thin nothing like the potted version. The texture is really creamy and glides on lids like butter. It takes few seconds to set, gives enough window to blend using fingers or brush. Also it spreads easily without getting cakey; I mean if you layer it.
Pigmentation: It is good but I would not say insane pigmentation. Also it sheers out if you blend them a lot, only and only if you blend it a lot. Best is to apply it evenly while applying it and just blend the harsh edges and the formula of these makes that possible. You can layer it or can be used as the base of the another eyeshadow.
Shade : Charcoal greay which has a metallic finish. It will suit all skintones. No chunky shimmers.
Performance: It stayed intact on bare lids for 6.5+ hours without creasing and performance can be prolonged with the primer. My eyelids are oily, but the shadow does not budge. To test I applied it while working out (My usual 😛 ) It did not budge, no creasing at all. With primer it stayed intact for 8+ hours and I noticed slight creasing only after that. But it's not waterproof, I prefer non waterproof makeup so I am fine with that. Goes off easily with water or makeup remover without leaving any shimmer behind.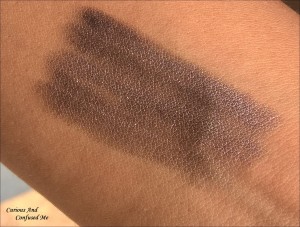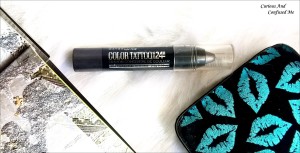 Final verdict: I love it. They do have mixed response how ever I feel that the darker shades fare better than the lighter ones. Maybelline Color Tattoo Concentrated Crayon is a creamy chubby eyeshadow , which has a good pigmentation, easy to blend , travel friendly and pocket friendly ( When compared to the eyeshadow crayon available in India) . Sad part is they are only available in US for now I believe, also sheers out if you blend them a lot. Pick one up if you like and if you are getting it in original price and if you have oily lids. Let's hope that these get launched everywhere soon at drugstore price, if you know what I mean.
I just dint get the Concentrated part still , aren't all eye shadows supposed to be concentrated :/
Have you tried this? Have you tried the original Color Tattoo?
Live life to the fullest
XOXO
SB
Follow me on bloglovin and i'll follow back 🙂
---
---