Makeup Revolution Focus and Fix Liquid Concealer : Review and swatch
Hello Gorgeous 🙂
Makeup Revolution London is brand which has literally created Revolution in the makeup industry. So many interesting good quality products at affordable rates . Makeup Revolution Focus and Fix Liquid Concealer which I am reviewing today was a random mindless purchase at 80% off 😛  I Almost forgot about it until I saw the review of it in other blogs 😛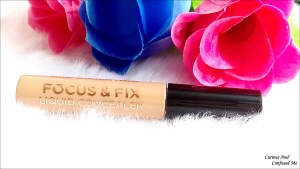 Price: 550INR ( 8.5$)
Why I almost forgot about Makeup Revolution Focus and Fix Liquid Concealer :
The packaging of the Makeup Revolution Focus and Fix Liquid Concealer is just like many of the Concealer packaging around. Transparent lip-gloss kind of plastic tube with the doe foot applicator. Very convenient. The texture is creamy, soft to touch. Very easily and evenly it spreads.
All the good things about the concealer comes to an end here.
The moment you start blending the perfect formula, it kind of sheers out. Naturally the coverage is sheer. It's not buildable either. When I used a orange corrector underneath this concealer, I was left with two orange stripes under the eyes. It's quite hard for me to tell the difference with concealer on that is why I had a tough time determining the staying power. I mean it's practically invisible. Staying power is about  2-3 hours. The Shade I have is Dark, which will suit medium skin-tones I think. Maybelline Fit Me Concealer is way better than this.
Final words: It's a joke in the name of Concealer!! Skip it.
Can you use this to highlight you ask? Umm I don't know!! Do you want to spend 550INR on a product that stays for 2-3 hour!!!
What do you think about this? Have you used this?
Follow me on bloglovin and i'll follow back 🙂
Live life to the fullest
XOXO
SB
---
---