Just Herbs Rejuvenating Beauty Elixir Facial Serum : Review
Hi lovelies 🙂
I always always include Serum in my skincare regime. The change I have seen in the skin texture is only after I started using the serums I dont really credit the creams for that . But my skin gets used to things real fast so I keeping hopping from one serum to the other. One such serum I hopped onto is: Just Herbs Rejuvenating Beauty Elixir Facial Serum Gotukola Indian Ginseng. Sharing my experience about this today.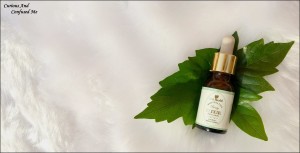 Price: 985INR for 15ml.
What does Just herbs say about this: This multi-tasking night serum is a synergistic blend of treasured Indian herbs to nourish and restore a natural glow and youthfulness to tired, ageing and pigmented skin. PSuits all skin types. Free from petrochemicals, parabens, SLS/SLES PEG/PPG, Genetically modified ingredients(GMO) and other synthetic ingredients. Fragrance-free.
The rest of the details, ingredients is listed here: Click here
My experience with Just Herbs Rejuvenating Beauty Elixir Facial Serum Gotukola Indian Ginseng :
The serum has a gritty texture and is yellow in colour. I initially thought I might have to massage it into skin or tap it into the skin, but the serum sinks into skin without much effort. When I take a little more amount I get a little sticky feel but that feel goes away in jiffy. I am guessing it is because it is water based.
What it does is what made me go through bottles of it. I could see the glow back in my face, the last serum I used was just bleh. So this made the difference. I saw the brightness, the glow, hydrated skin from within and fading of the dark marks. See it's quite hard to explain but you know it yourself when the product works and you wake up to healthy, plum, clean, happy skin. And I get that with this serum. Though on old marks I dint any difference but it is normal be it any serum.  One more thing I have noticed is that, just like in the case of Just Herbs Fair'e Mulethi Khus Skin Lightening Gel , that it calmed down my skin. Not breakouts either.
Just Herbs Elixir serum comes in glass bottle with the dropper. I consider the packaging a con. Because it's expensive, its glass . The scent is not exactly herbal. I dont know it reminds me of groundnut oil for some reason. The price, I used to think it's expensive but for now I think its sits somewhere in between, looking at TBS and all.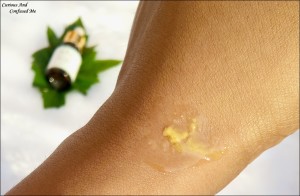 Do I recommend this: Yes
Will I repurchase: Not now, sometime later in the year. I have used bottles of this and my skin and I love it. But if I don't switch now, my skin will get used to this.
Why buy even though it's expensive? What makes it different?: Because it does wonders to your skin and free from petrochemicals, parabens, SLS/SLES PEG/PPG that's why. Also we all need to hop from one serum to other at some point, so let's pick something which is good from within, Okay?
Have you used this? Which Serum are you using right now?
Live Life to the fullest
XOXO
SB
Follow me on bloglovin and i'll follow back 🙂
---
---