Sugar Twist And Shout Fadeproof Kajal : Review, swatch, EOTD
Hi All 🙂
Many of you guys wanted to know how Sugar Twist And Shout Fadeproof Kajal Kajal fared with me, when I posted this Haul post. So here is it.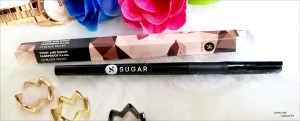 Price : 399INR for 0.35 gm
The details on how to apply the Kajal, the ingredients, the claims is given here: Sugar Cosmetics. You can buy the kajal from their website as well.
PS: I am not affiliated to it. Just making your life easier 😛
My experience with Sugar Twist And Shout Fadeproof Kajal :
The pigmentation of Sugar Twist And Shout Fadeproof Kajal is good. I would not call it deep jet black, but its black enough. On the upper line I am happy with one swipe, whereas for the waterline I usually go over like 2-3 times. This is quite common when it comes to Kajal. Does it stay for 10 hours as claimed? Oh, yes!! It does. As a eyeliner nearly 10 hours and on waterline lesser than that, like around 6+ hours, which is good enough for me. It is Fadeproof, smudge proof and it dint smear on the waterline. My eyes are not overly sensitive, but they do get watery due to some kajals. This kajal did not make my eyes watery. Also, it's waterproof to an extent.
But I liked it's performance as a kajal more. When I used this as a eyeliner on bare lids the product breaks down faster. I have oily lids.
The Kajal comes in twist up mechanism, so there isn't any product wastage. The length of the pencil is a little longer than usual, quite unique I must say. Then there is cushion grip near the mouth , which gives a grip while applying the kajal, nice touch. Kind of the like the pens. This can be easily removed with the cleansing milk. I use Garnier cleansing milk.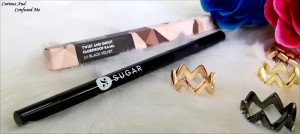 All in all I loved this. Sugar Twist And Shout Fadeproof Kajal is a long lasting Kajal with the long lasting power, smudgeprrof, Fadeproof, waterproof to an extent and no product wastage due to its twist up mechanism. Agreed that the Kajal is little expensive at 399 a pop, yet it's performance and free of mineral oil, preservatives, paraffin & parabens formula makes up for it. I might not repurchase this immediately but during the rainy season I am going back for this. Do try it out. 
Another good option for preservative free kajal with good pigmentation Plum NaturStudio All-Day-Wear Kohl .
So what do you think about this Kajal? Are you planning to try this?
Live Life To The Fullest
XOXO
SB
---
---